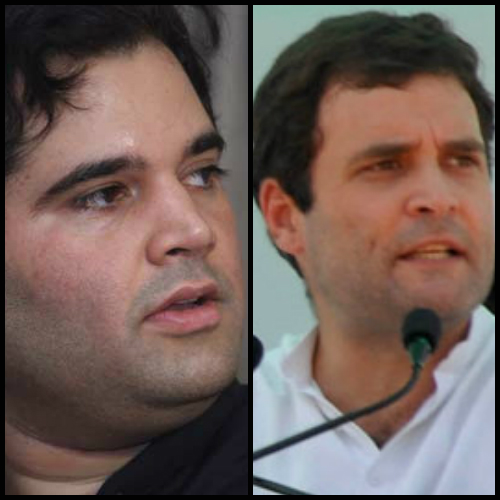 Campaigning for the May 7 elections for 15 Lok Sabha seats in Uttar Pradesh, which will decide the fate of 243 candidates, including two scions of Nehru-Gandhi family, Congress vice-president Rahul Gandhi and BJP national secretary Varun Gandhi, came to an end today.
The campaigning was marked by mighty show by both Congress and BJP, with Rahul's sister Priyanka Gandhi Vadra coming to the fore for her brother in Amethi, even as BJP's prime ministerial candidate Narendra Modi entered the Congress scion's turf to counter the family effect.
More than 2.5 crore electorate, including 1.37 crore men and 1.14 crore women are expected to exercise their franchise in the the fifth phase of polls in the state.
Besides the grandsons of former prime minister Indira Gandhi - Rahul and Varun, who are contesting from Amethi and Sultanpur seats - this phase would also decide the fate of a number of prominent faces, including Union Minister Beni Prasad Verma (Gonda) and cricketer-politician Mohd Kaif (Phulpur).
Also in the fray are poet-turned-politician Kumar Vishwas and TV artiste and BJP's Rajya Sabha MP, Smriti Irani, both from Amethi, and state Congress president Nirmal Khatri from Faizabad.
While Vishwas is banking on the power of 'aam aadmi (common man)', Irani is trying to cash in on Modi wave and highlighted the "lack of development" during Rahul's 10-year tenure as MP from here.
For Congress, its star campaigner Priyanka canvassed extensively for Rahul, holding meetings and roadshows, even as the Congress vice-president undertook a whirlwind tour of his constituency and attempted to strike an emotional chord with the electorate.
To counter Rahul and Priyanka, Modi held a rally in Amethi today in support of BJP's Irani.