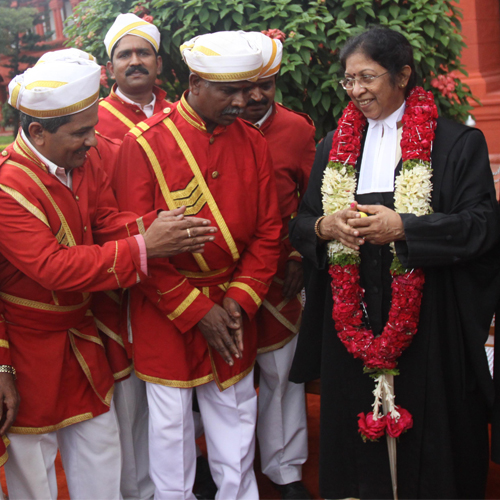 Justice Manjula Chellur today took oath as the first woman Chief Justice of Calcutta High Court, the oldest HC in India. Justice Chellur, who was till now the Chief Justice of Kerala High Court, was administered the oath of office by West Bengal Governor K N Tripathi.
In her address after taking oath, Justice Chellur expressed her gratitude to the Chief Justice of India for reposing faith in her to head the High Court at Calcutta. She talked of the rich heritage of Bengal and luminaries like Rabindranath Tagore, Ram Mohan Roy and Netaji Subhash Chandra Bose.
Justice Chellur also spoke of her personal liking of legendary Bengali novelist Sarat Chandra Chattopadhyay and cited 'Devdas' and 'Parineeta' as her favourites.
Chief Minister Mamata Banerjee was present at the function besides Speaker Biman Banerjee and state Law minister Chandrima Bhattacharya. There was a huge rush among the lawyers practising at the High Court to witness the function, but the Chief Justice's court room, where the oath-taking is traditionally held, could not accommodate them all. Such was the eagerness to enter the room that a glass pane on the main door broke under pressure.
Born on December 5, 1955, Justice Chellur broke the gender barrier on a number of occasions, starting from being the first lady advocate to practice at Bellary in Karnataka. Chellur was directly selected and appointed as the first lady District and Sessions Judge in 1988. She was appointed as the first lady judge of Karnataka High Court, Bangalore in February 2000. She was appointed as Acting Chief Justice of the Kerala High Court in November 2011 and was sworn-in as the Chief Justice on September 26, 2012.