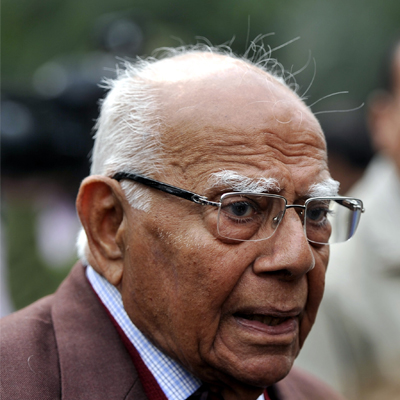 Senior Supreme Court advocate Ram Jethmalani said on Saturday that Congress President Sonia Gandhi had committed a "blunder" by meeting Shahi Imam of Jama Masjid Syed Ahmed Bukhari.
Talking to reporters, he said Congress spoke about secularism and seek support of Muslim clerics for votes. The party had been following vote bank politics, and it was a dangerous strategy, he said.
Jethmalani, who is in Madurai to campaign for MDMK candidate Vaiko in Virudhunagar Lok Sabha constitutency, sought the support of Tamil super star Rajinikanth to make Narendra Modi as Prime Minister.
"Rajinikanth is a popular man in Tamil Nadu. He should use his popularity to save the nation from the catastrophe being faced by the nation. Rajini should support Modi to become the Prime Minister", Jethmalani said.
Modi had great qualities of a leader. He had courage and conviction. He was not a communal man, Jethmalani said.
Modi had rehabilitated thousands of Muslims in Kutch after the earth quake. He felt that people of all religions should be educated and it was in Gujarat that maximum number of Muslims received higher education and 28 Muslim organisations had supported him. He had secured 31% of Muslim votes in Gujarat during the successive elections, Jethmalanai said.
Asked why he is not supporting AAP if he wanted to fight against corruption, Jethmalani said AAP leader Aravind Kejriwal required years to prove his mettle. He initially said the party would contest only in Delhi elections and after that Modi would be supported. It seemed they were interested in dividing anti-corruption votes, Jethmalani said.
Asked why appeared for Kani mozhi in the 2G case, he said as a lawyer he could not turn away any person who comes to him to file a case for defending.