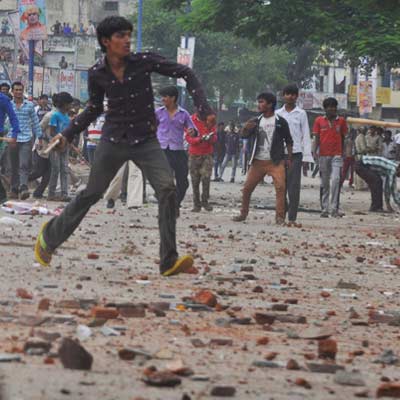 As Narendra Modi was sworn in as the Prime Minister of the country on Monday, May 26, 2014, celebrations followed in different parts of India. But it turned upside down in the town of Bijapur, where the Vijayotsav turned into an ugly communal riot.
Led by BR Patil Yatnal, a former Minister of State, the large crowd ended up creating a ruckus as they reached Gandhi Chowk's vegetable market. The revellers were covered with gulaal as a sign of victory. But when they tried putting it on the vegetable vendors who belonged to another community, it led to an argument and then a brawl. Stone pelting injured around 15 people including the policemen who were greatly outnumbered. The other shopkeepers and vendors in the area pulled down the shutters of their shops in fear.
The riot, which lasted for about an hour, ended up causing loss of property worth lakhs of rupees. After the incident, prohibitory orders under section 144 (CrPC) have been issued in the area. It is also being closely monitored. The police have assured a thorough investigation of the entire incident.