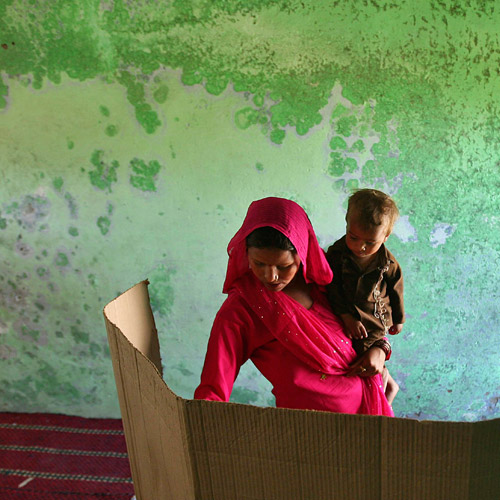 The eighth phase of polling that took place in the states of Uttar Pradesh, West Bengal and Andhra Pradesh on May 7 didn't go without allegations of poll rigging with several of them made by top candidates.
As five constituencies in Uttar Pradesh went to polls, key candidates alleged instances of poll rigging and violence.
1. Bharatiya janata Party's (BJP) Amethi candidate Smriti Irani made headlines when she confronted Priyanka Gandhi's PA Preeti Sahay saying why she was present around the poll booth in Amethi. She was quick enough to post a picture of Sahay from her Twitter account.
2. Irani claimed that voters were being influenced by the Congress when she tweeted that voters had to pass the Congress mahasachiv's home which is 30 meters away from polling booths 210 and 211 in the Amethi constituency
3. The TV actress turned politician even claimed that voters in Kaima were beaten by Congress workers and went on to tweet a picture of man's back that had injury marks.
4. AAP's Kumar Vishwas made allegations of booth capturing in several booths. He had tweeted that "Booth capturing is going on at booth number 42 of Mehmoodpur...," but all of Vishwas' found to be untrue after verification by the Election Commission(EC).
5. AAP took objection to Rahul Gandhi's mode of transport claiming that he traveled in a cavalcade but the Congress responded that he was travelling in just one car with rest of the cars being used by security personnel to commute. It was however the first time Rahul Gandhi had visited Amethi on a polling day.
6. Rahul Gandhi too objected to a drawing of a lotus on a blackboard in a polling booth in Amethi and said he would take it up with the EC.
In West Bengal six constituency went to polls and registered voters' turnout higher than national standards. The Left Front claimed taht voters were being intimidated with violence and there were instances of booth capturing.
In Andhra Pradesh 25 constituencies went of polls. Violent clashes broke out and 20 people were reported to be injured and 3 police vehicles were damaged.The clashes were reported to be between the YSR Congress Party and Telugu Desam Party workers