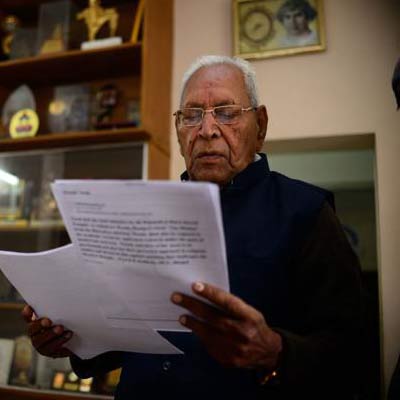 Gujarat government is planning to introduce certain books written by Dinanth Batra, founder of Shiksha Bachao Samitee, as supplementary reading for the school children, prompting opposition Congress to call it an attempt to "saffronise" the education.
Batra, founder of Shiksha Bachao Andolan Samiti, has been associated with Rashtriya Swayamsevak Sangh (RSS) and was recently in news when a civil suit filed by him forced withdrawal of the book on Hinduism written by US-based scholar Wendy Doniger.
"We are planning to introduce supplementary books for extra reading. These reference books will give information about Indian Culture, values and heritage," education minister Bhupendrasinh Chudasma said today.
"The books will include three or four books written by former NCERT member Dinanath Batra who is associated with Indian ideology. There is nothing controversial in them," Chudasma added.
Gujarat State School Text Book Board had issued a circular on June 30 about inclusion of nine books written by Batra as the supplementary reading material for all school and district libraries.
The books include 'Shikshan nu Bharatiyakaran', 'Tejomay Bharat'(Part 1 to 4), 'Preranadeep part one to four', 'Vidyalaya :Pravruttiyon nu Ghar', 'Shikshan ma Triveni' and 'Vedic Ganit'.
The original books are in Hindi, and board will provide Gujarati versions, which were recently released by Chudasama. The minister clarified that these books are not a part of syllabus and so they are not a mandatory reading. "There are thousands of other books which we have included as the reference books," Chudasama added.
Batra, a retired school teacher, has been the general secretary of a school network run by Rashtriya Swayamsevak Sangh in the past.
Congress, meanwhile, accused the Bharatiya Janata Party (BJP) government of saffornising education and implementing the agenda of RSS in the state schools. "BJP-led government in Gujarat is moving ahead to impose the saffronised RSS agenda in the name of providing supplementary books," Gujarat Congress spokesperson Manish Doshi said.
He alleged that BJP was misusing its majority in assembly by implementing 'Nagpur agenda' in schools. "The state government cannot provide textbooks to the students even six months after the schools start. Batra's books, given in the name of supplementary material, will only implement the RSS agenda," Doshi said, adding it would harm the unity and the integrity of the country.
The withdrawal of Doniger's book 'The Hindus: An Alternative History' following Batra's suit had kicked off a controversy.
He had also sent a legal notice to publisher Orient Blackswan, which led to a halt to release of the book 'Communalism and Sexual Violence: Ahmedabad since 1969', written by Megha Kumar.