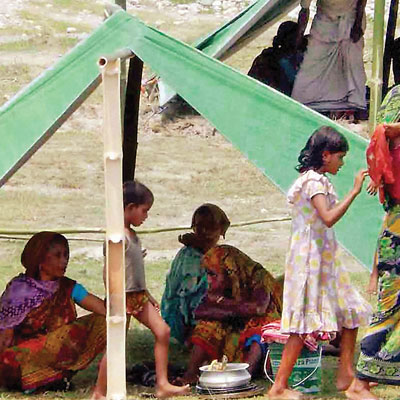 Five more bodies were recovered on Wednesday, taking the death toll in the Assam violence to 37.
The locals claimed that the bodies, recovered from river Beki, were of those reported missing since the attacks perpetrated at Narayanguri and Khagrabari villages in Baksa district. A lot of people had plunged into the river to save their lives.
A beleaguered chief minister Tarun Gogoi, who visited the affected villages on Wednesday, reiterated that no one would be spared if found responsible for the violence.
Groups and organisations, besides the leaders of some political parties, alleged that the attacks were carried out by forest guards and former Bodo militants at the behest of Bodoland People's Front (BPF), which is an ally of ruling Congress in the state. Gogoi asserted that Congress would snap its ties with the BPF if the party was found guilty.
"It'll take five minutes for us to sever our ties with them (BPF) if their involvement was established during the course of investigation," he said.
The state government had on Tuesday announced a judicial probe by a retired judge. This is in addition to the probe by the National Investigation Agency.
The chief minister said permanent police pickets would be set up in the sensitive and vulnerable areas to thwart such incidents.