Digvijay Singh asked if Gujarat Chief Minister Narendra Modi's teleconference with Bihar BJP cadres had any connection with the serial bomb blasts in the Mahabodhi temple.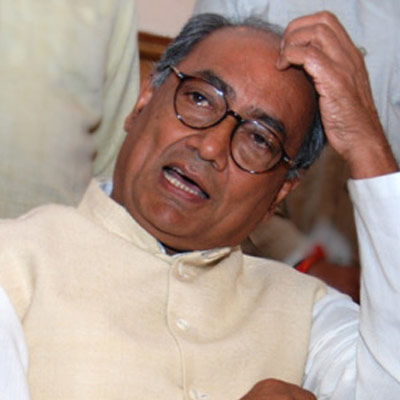 Congress leader Digvijaya Singh's tweets on Monday about possible links between Narendra Modi's teleconference with party workers in Bihar and blasts in the Mahabodhi temple triggered angry response from the BJP which said that his remarks were "nonsensical" and "bizarre".
Also see: Politics over Bodh Gaya blasts: Digvijay Singh takes to Twitter rant, hints at Narendra Modi's role
Digvijay Singh asked if Gujarat Chief Minister Narendra Modi's teleconference with Bihar BJP cadres had any connection with the serial bomb blasts in the Mahabodhi temple.
"Amit Shah (BJP general secretary) promises a grand temple at Ayodhya. Modi addresses Bihar BJP workers and asks them to teach Nitish (Bihar Chief Minister Nitish Kumar) a lesson," Digvijay Singh said on Twitter, adding: "Next day bomb blasts at Mahabodhi Temple at Bodh Gaya. Is there a connect? I don't know."
While addressing BJP workers Saturday, Modi had said Nitish Kumar would be taught a lesson people for "betraying the mandate of people".
Nitish Kumar's Janata Dal-United parted ways with the BJP after Modi was elevated last month as his party's election campaign chief for the 2014 general elections.
Digvijaya Singh, talking to reporters later, appealed to the BJP to allow the National Investigation Agency (NIA) to complete the investigation into the 10 serial blasts.
"After the unfortunate blasts at Bodh Gaya, Ravi Shankar Prasad of the BJP targeted the Nitish Kumar government, of which they were a part of a few days ago. The BJP also raised a Muslim angle, quoting Delhi Police and saying that the Pune blast (German Bakery blast of 2010) suspect did a recce at Mahabodi," he said.
"BJP also gave statements linking the persecution of Muslims in Myanmar to this incident. They are clearly targeting Muslims and I want to say to all that for god's sake, let the NIA complete the investigation," he said.
Observing Digvijay's tweets should be read in entirety, the Congress said it just wanted that the blasts be probed and the guilty punished.
The Congress chose not to get drawn into the controversy.
"Digivijaya's tweets should be read in entirety. We urge the state government to probe the blasts and punish the guilty," Congress spokesperson Bhakta Charan Das said.
"There should be no kite flying on the grave incident,' he said.
Reacting to Digvijaya Singh's remarks, Prasad said that Delhi Police had confirmed what he had said.
"There were proper intelligence inputs. It is not a fancy," Prasad said.
Officials of Delhi Police had said Sunday that one of four arrested terror suspects involved in last year's Pune blasts had said during questioning that he had made a video film of the area around the Mahabodhi temple. They said the information had been shared with Bihar Police.
Other BJP leaders too reacted to Digvijay Singh's remarks.
"There is no need to take his remarks seriously. Whatever he speaks, it is non-sensical," BJP general secretary Ananth Kumar said.
Party leader Rajiv Pratap Rudy said Digvijay Singh's remarks were "bizarre".
BJP vice president Mukhtar Abbas Naqvi said that Congress leaders were fighting with BJP instead of taking on those who were spreading terror.
Speaking to reporters near Pune, some Minister SushilKumar Shinde said Monday that 10 blasts rocked the Mahabodhi temple complex and 13 bombs were planted at the holy site the day before. Two monks were injured in the blasts.
The Rashtriya Swayamsevak Sangh (RSS) condemned the terror attack and said terrorists were succeeding because the government lacked the will to decisively deal with them.
RSS spokesperson Manmohan Vaidya said in a statement the need of the hour was to deal decisively with terrorism.
Digvijay Singh in one of his remarks also said that if the state government had intelligence inputs, it should not have kept security of shrine in private hands.