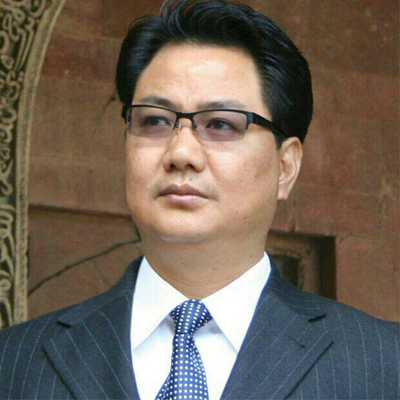 Union Minister Kiren Rijiju on Saturday said funds meant for Central projects would be under BJP's scanner to ensure judicious utilisation in Arunachal Pradesh.
"To play a crucial role in governance, the BJP will be more vigilant to ensure that funds allocated from Centre are not misused," the Union Minister of State for Home told reporters in Itanagar.
Alleging that BADP (Border Area Development Programme) and other road projects were not implemented in the state as per the prescribed guidelines by the state government, Rijiju said the party legislators would henceforth keep track of all such projects for effective implementation.
Ridiculing the state government's claim of having a sound financial position, the Minister pointed out that revenue leakage has been reported based on ground realities.
"There might be not a crisis in the financial health, but it is not in a comfortable position. We need a prudent fiscal policy," he said, adding that the state's financial status would be brought back to normalcy with Centre's attention.
Claiming that the law and order situation in the state was far from the desired level, Rijiju pointed out that discontentment among the people was increasing and the state had turned into a land of unions and associations.
"This is because of the management and the way to run the state. I don't blame them because they have their democratic right, but this trend is not a positive sign for the state's development," he said, adding that during 80s the state never witnessed such a culture which had arise of late due to the failure of the government.