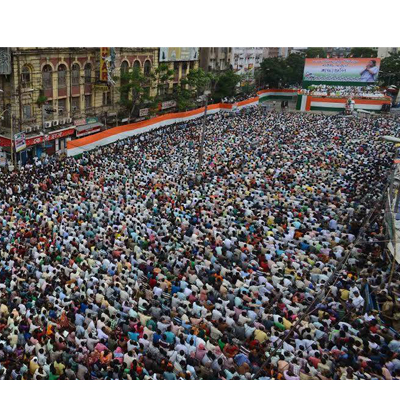 Lakhs of people thronged the streets of Kolkata as entire city came to standstill during the Martyr's Day rally held by ruling Trinamool Congress. Every year TMC organises this rally on 21st July, to commemorate the death of youth Congress workers in police firing way back in 1993.
Like every year, Mamata Banerjee used this rally as a show of strength on Monday. She tried to send a message to her party cadres that indiscipline will not be allowed and grassroot workers have to work their way up by dint of hard work.
Mamata alluding to BJP said that communal forces will not get a chance to increase their tally. She said that although BJP has only increased its tally by 1 in the last General elections, but it has received disproportionate media attention. Mamata said that BJP's tally will be back to zero in the next election. Bengal CM cautioned her cadres that some people are trying to incite communal violence in the state and asked them to be alert to stop it.
In the Saradha chitfund scam, possible involvement of several top TMC leaders have been speculated in the media. Mamata tried to allay this perception by saying that they practice politics of honesty. She said that TMC is the only party in the country where tickets are not sold . She said that during elections she will again sell her paintings to collect fund for her party.
Mamata Banerjee claimed that in just over three years her government has rejuvenated the fortunes of Bengal. She stated that in many schemes Bengal is number one in the country. Top intellectuals from the cultural field attended Monday's Martyr's Day rally. Three Congress MLA and one CPI(M) MLA joined Trinamool Congress in this rally.