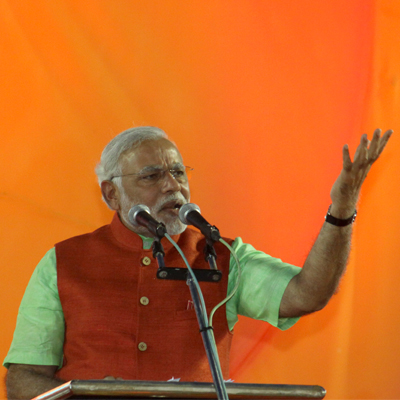 The Bharatiya Janata Party's (BJP) today had launched a huge protest against the Election Commission's (EC) refusal to permit Narendra Modi to hold a rally in Varanasi. The 'satyagraha' drew large number of BJP workers. Top BJP leaders such as Arun Jaitley, Amit Shah, Ananth Kumar, Vijay Goyal had sat on the dharna. The event that took place outside Lanka Gate of the Benaras Hindu University saw party workers pushing each other to get close to the party leaders. The protest still continues in Varanasi where huge numbers of Aam Aadmi Party's (AAP), BJP's and Congress' supporters had come for their key candidates earlier this morning.
Many rival party leaders pointed fingers at the BJP leadership saying that the BJP is pulling off a publicity stunt hoping that it would help them in the elections. The Bahujan Samaj Party (BSP) supremo Mayawati has alleged that BJP in connivance with SP were "doing" this to influence the elections on the remaining seats in the state. It is a point to ponder since even teh Samajwadi Party (SP) is disgruntled with the Returning Officer Pranjal Yadav as they claim their party workers are being arrested due to the EC's complaints.
Finance Minister P Chidambaram slammed Modi saying, "I have a feeling that the BJP is getting a bit desperate. That is why it is making these outrageous attacks on the EC. The EC has allowed them to carry out their other events, then why should they take umbrage because just one event is denied". He even said that the EC has done a "tremendous job, a splendid job".
AAP's Varanasi candidate Arvind Kejriwal said that the BJP should have ageed to change the venue as asked by the Varanasi administration. He even brought up another allegation against the EC and Modi. Kejriwal showed the letter from the EC permitting Modi to perform the 'aarti' and said, "No one needs any permission from the Election Commission to perform rituals. Permission is required only for political activities."
The EC even held a press conference, saying that the transfer of Pranjal Yadav had been ruled out. They have also seeked factual report regarding Rahul Gandhi's alleged visit to an EVM. They have also said that they have done their best to ensure fair poling and followed procedures and local administrations' advise on security matter. They hoped political parties showed more maturity while refering to the Chief of Election Commission.
The Twitter was abuzz with the drama that is still goes on. #BJPDrama ​and #BanarasVsModi currently trending on Twitter.
At #BJPDrama saw Twitter users fighting over whether AAP draws bigger crowd than the BJP
Movie Name: #BJPDrama Movie Started: 11 AM Movie ended: 2 PM Directed By: Arun Jaitley Audience: Hardly 400 Status: Super FLOP

— Tathagat Khandelwal (@IAmTathagat) May 8, 2014
No of ppl in #BJPDrama.. isse jyada log to AAP ki nukkad sabha me hote hain.. kaahe ki modi wave.. pic.twitter.com/1uuDcPYtSM

— AK49 (@ps_nitin) May 8, 2014
BJP Advt - "No dharna, No drama ..Abki baar Modi Sarkaar" Reality of BJP -"We will hold dharna against EC" :Jaitley. #BJPDrama #AAPKranti

— Abinash Mishra (@Abinash_2K) May 8, 2014
Dharna shld be on the bad (road, education, electricity, water) condition of Varanasi due to BJP MP/MLAS/Parshads. Now thay are on #BJPDrama

— Jayant Kumar (@OnlineExpertLiv) May 8, 2014
#BJPDrama goons blocking the way to the university, Saamne Ghat & hospital. Patients awfully hassled.

— Don Key (@Donkeyji) May 8, 2014
Whereas in #BanarasVsModi the Twitter users ranted about BJP's callousness over holding the dharna and disrupting public life
Ppl of Banaras are super upset with BJP for attacking the DM. They adore him as he is an honest officer who has worked alot. #BanarasVsModi

— shaurya madan (@shauryamd) May 8, 2014
Can Kashi trust a man who has no respect for constitutional bodies? #BanarasVsModi

— Prateek Singh WithRG (@PrateekCongress) May 8, 2014
In his desperation to grab power at any cost,Shri Modi has breached all norms of civilised conduct and political discourse. #BanarasVsModi

— Harsh Vardhan Shyam (@harshiyc) May 8, 2014
I don't think people of Benaras are so dumb. You don't go to a place,mess with their culture and expect them to vote for you. #BanarasVsModi

— Asavari Gill (@AsavariGill) May 8, 2014
Innocent BHU students unable to answer exam because of the roadblock in Banaras. PM in waiting believes in ruckus, not peace. #BanarasVsModi

— Hasiba Amin (@HasibaAmin) May 8, 2014