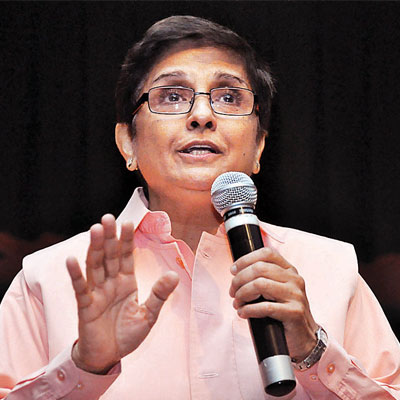 Former IPS officer Kiran Bedi's repeated endorsement of Narendra Modi as prime minister has apparently endeared her to the BJP. The party, which has roped in former army chief VK Singh, is reportedly trying to get Bedi also on board.
BJP sources said talks were on with Bedi, Anna Hazare's key aide, on contesting elections from Delhi, to take on Arvind Kejriwal's Aam Admi Party. Despite her support for Modi, Bedi had maintained that she was not keen on fighting polls. She had said that she was not politically inclined and was just an independent voice. However, she had been critical of AAP's policies and its taking Congress support to form government in Delhi.
Bedi had also written the foreward to the book "Moditva --The Idea Behind the Man" released here last week. Last month, she had commented that Modi can provide a stable, accountable and inclusive government after which BJP leader Subramanian Swamy tweeted that the BJP should invite Bedi and VK Singh to join the party.
Singh, who was also part of Hazare's anti-graft campaign, joined BJP on Saturday.
While sources said the party was in touch with her, they did not confirm if she had made up her mind. According to a Delhi BJP leader, Bedi had not shown much inclination to contest elections.