Party president Rajnath Singh offers unambiguous olive branch to community in run up to 2014 contest.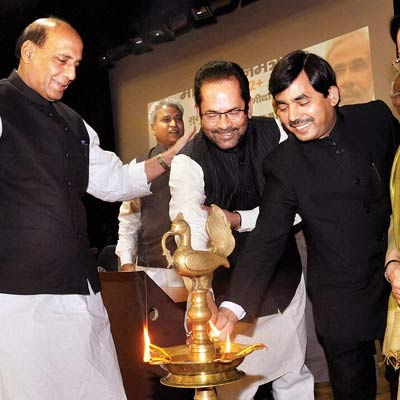 BJP president Rajnath Singh and leader of Opposition in Rajya Sabha and senior party leader Arun Jaitley reached out to Muslims on Tuesday as the party has never done before.
Singh and Jaitley were addressing a convention organised by the BJP Minority Morcha and the Rahstriya Muslim Manch. Singh offered an unambiguous olive branch to the Muslims, the largest minority group in the country, pleading with the Muslims to give the BJP a chance by voting for it and to reject it later if the party did not meet their expectations.
He said, "Please note that whenever, wherever if there has been any mistake and shortcoming on our part, I assure you that we will apologise to you by bowing our heads."
Singh took on the 2002 Gujarat anti-Muslim riots and said that chief minister Narendra Modi went to every refugee camp, and he recalled the 1969 riots under then Congress chief minister Hiten Desai. He said that in 1983, under Assam Congress chief minister Hiten Saikia, 5,000 Muslims were massacred in a day.
Singh went out of his way to present Modi's view and reiterated that for Modi, secularism meant putting India first. Singh interpreted it to mean that everyone should be judged on the basis of insaaf (justice) and insaaniyat (humaneness). Singh explained that the Constitution does not allow reservations based on religion and that the BJP favoured reservations for economically backward members of all communities.
Meanwhile, Jaitley in his daily blog, stood back and evaluated the changing equation between the different minority groups and the BJP. He observed that after the 1984 anti-Sikh riots in Delhi and elsewhere, the Sikhs found it comfortable to be with his party. He pointed out that the Christians voted with the party in the last Goa assembly elections and that the deputy chief minister in the state was a Christian. In the December 2013 Rajasthan assembly elections, Jaitley said that two Muslims and two Sikhs had got elected from the BJP.