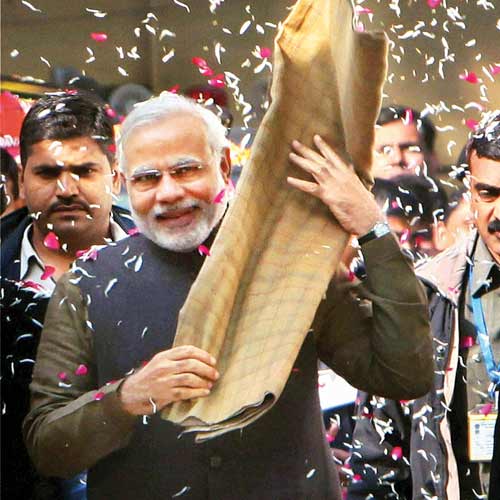 Going back to the traditional way of collecting funds for election campaign, the BJP will launch a 'Modi for PM fund' wherein it will seek donations from 10 crore households ahead of the next Lok Sabha polls.
Recently, the Aam Admi Party (AAP) had collected Rs 20 crore from individuals for its campaign in the Delhi assembly elections.
Without naming the AAP, BJP spokesperson Prakash Javadekar said his party leaders and workers would visit 10 crore houses seeking "One Vote, One Note (donation)". The strategy of getting funds from people was used by Jayaprakash Narayan in the 1970s.
"The party will seek donation ranging from Rs 10 to Rs 1,000 from these 10 crore households across the country," he said.
Earlier in the day, chief ministers of all the BJP-ruled states, the party's state unit presidents and other top office bearers held a meeting to discuss the preparations for the parliamentary elections and to review the results of the recent assembly elections in five states.
For the general elections, the BJP has come up with a four-month plan for preparation and campaigning. Javadekar said the party has fixed a 120-day deadline for the elections. "Out of the 120 days, the first 60 will be used for election preparation and the remaining days for campaigning. During the preparation stage, party workers will reach out to each household at the booth level and hold meeting at the constituency levels," he said.
He said the party's prime ministerial candidate Narendra Modi told the meeting that in the last general elections, the Congress had won 90 seats more than the BJP with a total vote difference of 89 lakh. And this difference can be filled in the next general elections, Modi said.
"Modi ji said that 12 crore new voters have been enrolled themselves in the electoral list. As the difference of votes share of the Congress and the BJP in the last elections was less than one crore, this gap can be filled this time, the Gujarat CM said. The party will devote next month to registration of new voters and felicitating these new voters," Javadekar said.
The BJP is also preparing a vision document, an electoral manifesto and a chargesheet against the Congress government. Through crowd-sourcing, the party has already received over 50,000 suggestions to be included in the manifesto.
"The BJP is also making write ups on the Congress misrule in the last 10 years. To reach out to all social sections of the society, the party will be holding several meetings with them. Those who are not able to join the BJP due to some reason will be contacted through 'friends of BJP," Javadekar added.