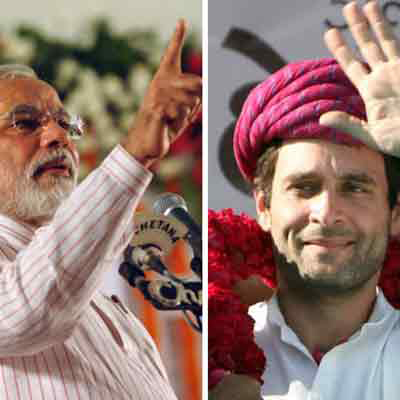 Several agencies have made projections regarding the 2014 Lok Sabha elections through pre-poll surveys. Here we take a look at the surveys of various agencies, the similarity and differences in their predictions and try to arrive at a reasonable conclusion.
Lets have a look at the BJP strongholds first.
Gujarat: In Gujarat, C Voter predicts 23 seats for the BJP. CSDS predicts 24, AC Nielsen 21 and Hansa 22. There is unanimity in thought: all agencies believe BJP will sweep the Gujarat elections. In 2009, BJP had won 15 seats and Congress 11, so the Congress tally is set to drastically reduce.
Madhya Pradesh: Madhya Pradesh will also see a surge in BJP's seats. C Voter says BJP will win 26 of 29 seats, CSDS predicts 26 too, AC Nielsen 21 and Hansa 22. Congress is supposed to win 3-5 seats according to all agencies in this state. This is a significant fall for the Congress party, from the 12 seats it got in 2009. The BSP may win 1 seat according to AC Nielsen.
Rajasthan: Rajasthan is a major BJP stronghold after it swept to power by 4/5ths majority in the recently held assembly elections there. This election, C Voter predicts that BJP win maintain its firm grip, winning 21 seats. CSDS predicts a near-total sweep - 24 out of 25 seats. AC Nielsen believes BJP will win 20 seats and Hansa says 21. These results show a major electoral reversal for the Congress in Rajasthan, which won 20 seats there in 2009.
Now we shall look at other important states
Uttar Pradesh: This is perhaps the most important state in any general election, with its 80 seats. The 2009 elections saw a split mandate here, with Congress winning 21 seats, BJP 10 seats, SP 23 seats, BSP 20, RLD 5 seats and others 1 seat. This time tough, all agencies predict a very good result for the BJP, and near-annihilation of the Congress. C Voter thinks Congress will win just 4 seats, CSDS 5 seats, AC Nielsen 11 seats and Hansa 7 seats. Conversely, the BJP is predicted to win a very high number of seats - 42, 46, 38 and 53 according to the four agencies respectively.
Bihar: The BJP broke its alliance with the JD(U) in Bihar, but this seems to be benefiting the BJP and hurting the JD(U). All agencies predict BJP winning at least 19 seats. C Voter says 20 seats, CSDS 22 seats, AC Nielsen 19 seats and Hansa 21 seats. The JD(U) will shrink to single digits according to all 4 agencies. The Congress, too will do rather badly in Bihar.
Chhattisgarh: The BJP won all but one seat here in 2009 (10) but it is likely to lose a couple of seats to the Congress this time, according to C Voter. AC Nielsen predicts 9 seats for the BJP and Hansa says 8.
Jharkhand: Jharkhand has 14 seats, and all agencies predict at least a retention of seats for BJP. C Voter says 8 seats, AC Nielsen and Hansa say 10 seats.
Haryana: AAP is contesting seats in Haryana, but it will be the BJP which will spoil the Congress' party here. The Congress, which won 9 seats here in 2009, will shrink to a maximum of 3 seats (Hansa). C Voter predicts 2 seats and AC Nielsen 1. Only C Voter thinks AAP will a seat in Haryana.
Himachal Pradesh: Most predictions show BJP and Congress retaining their number (3 and 1) in Himachal Pradesh, but AC Nielsen thinks BJP will win all 4 seats in the state.
Karnataka: BJP is set to make a comeback in Karnataka thanks to the reinduction of BS Yedyurappa into the party. The wheels of fortune have turned a full circle in Karnataka. In 2009, BJP won 19 seats and Congress just 6 seats. Then BJP lost the assembly election by a landslide. However, C Voter predicts that BJP will recover to win 15 seats, AC Nielsen says 15 seats and Hansa 16 seats. The notable exception is CSDS which predicts just 10 seats for the BJP, and 15 for the Congress.
Tamil Nadu: J Jayalalithaa's AIADMK is set to back up its strong showing in the previous assembly elections with a great increase in Lok Sabha seats in 2014. The lowest prediction for AIADMK comes from CSDS, which predicts 18 seats. C Voter predicts 25 seats, Nielsen 21 seats and Hansa 25 seats. These elections will mark a reversal of fortunes for the DMK, which won 18 seats in 2009. The BJP will open its account in Tamil Nadu according to CSDS (8 seats), AC Nielsen (7) and Hansa (3). No other party - PMK, MDMK, CPI or CPM will be able to make much impact.
Telanagana and Seemandhra: Telangana will be a stronghold of the Telangana Rashtra Samiti, which will win between 7-13 seats according to various agencies. C Voter puts the figure highest at 13 seats. CSDS and Hamsa believe the TDP and Congress will also do fairly well in Telangana. AC Nielsen predicts 9 seats, a majority, for the Congress in Telangana.
In Seemandhra, the big gainer is the YSR Congress, projected to get 10 seats (Hansa) to 17 seats (C Voter and Nielsen) across all surveys. The TDP is also gaining big, with AC Nielsen putting the lowest figure at 7 and Hansa at 14. Congress, on the other hand will face a washout these elections, with a maximum projection of 1 seat by AC Nielsen and Hansa.
West Bengal: Mamata Banerjee's Trinamool Congress (TMC) is set to gain in West Bengal, winning 25 to 28 seats in every survey. The Left Front will lose some more seats this time, as C Voter puts it at 14, CSDS 10, AC Nielsen 11 and Hansa 9. Congress will also lose between 1 to 4 seats from their tally of 6 in 2009, and BJP may win 1 seat here.
Maharashtra: The BJP and Shiv Sena are set to gain big if surveys are to be believed. BJP will win 14 (CSDS) to 19 seats (Hansa). Shiv Sena will walk away with 12 to 16 seats. The big loser in Maharashtra according to all surveys in Congress. C Voter predicts 7 seats, CSDS 10, AC Nielsen 8 and Hansa just 5. Congress won 17 out of 48 seats in Maharashtra in 2009.
Punjab: Punjab is one state where the results will not vary greatly from those in the 2009 polls. Congress and SAD are the biggest players here. C Voter predicts 7 seats for Congress and 4 for SAD, AC Nielsen 6 and 5 and Hansa 7 and 6. BJP is likely to win 2 seats.
Assam: Congress is set to gain a few seats in Assam, or at least retain the 7 seats they have. C Voter predicts 7 seats, AC Nielsen 8 seats and Hansa 11 seats. BJP may lose upto 2 seats.
Odisha: The Biju Janata Dal (BJD) will hold on to its mandate in Odisha. C Voter predicts 13 seats, CSDS 14 seats, AC Nielsen 17 seats and Hamsa 18 seats. The Congress is predicte d to win 5, 2, 2 and 3 seats by C Voter, CSDS, Nielsen and Hamsa respectively. The BJP may gain 0-5 seats in the state.
Kerala: Kerala has 20 seats and the BJP is not likely to win a single one. The Congress will win 8 (CSDS) to 14 (C Voter) seats. The Left Front may get 6-11 seats.
Jammu and Kashmir: The BJP and the PDP will gain 1-2 seats each in Jammu and Kashmir. The Congress will lose 1 seat according to C Voter, but gain 1 according to AC Nielsen. The National Conference is likely to reduce its tally from 3 to 1.
Other states: Goa is predicted to see a 1-1 tie between the BJP and Congress. In Tripura, the CPM will win both seats according to C Voter, while other agencies have made no predictions. The Sikkim Democratic Front will retain the sole seat in Sikkim. Mizoram's sole seat will go to Congress according to C-Voter. C-Voter also predicts a 1-1 tie between BJP and Congress in Arunachal Pradesh. The Manipur seat will go to Congress and in Nagaland, the Nagaland People's Front will win the sole seat.
C Voter predicts a total of 212 seats for the BJP in the 2014 elections. Congress will win just 81. Other agencies do not have survey results for all states. However, the Congress tally is dismal overall, even if we take the other agencies into account. A performance of above 100 seats is very unlikely according to all surveys. For the BJP, CSDS predicts 181 out of 450 seats, AC Nielsen 218 out of 535 seats and Hansa 208 out of 518 seats.
Thus, the BJP-led NDA is likely to form the next government, as long as they secure a few more alliances after the polls. The Congress will hit its lowest-ever electoral tally - a massive defeat.