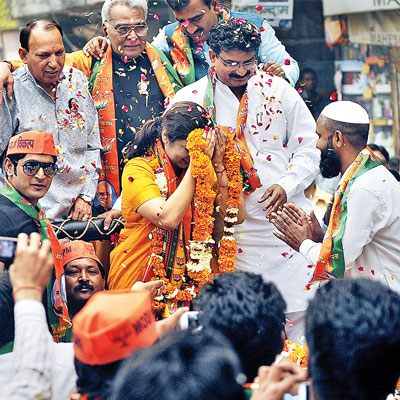 An overcast Sunday sky, accompanied with a light drizzle has not dampened the spirit of the BJP cadre accompanying a petite but politically sharp Meenakshi Lekhi on a hectic campaign trail.
Pit in a challenging contest, Meenakshi Lekhi, a lawyer-spokesperson of BJP, and a debutant in electoral politics, is up against a seasoned and sitting Congress MP from New Delhi constituency, Ajay Maken.
Others in the fray are Aam Aadmi Party's sting-journalist Ashish Khetan and Trinamool Congress' yesteryear Bollywood star Biswajit Chatterjee.
Lekhi is aware of the uphill task she faces. While she is a known BJP face on television, the Delhiite is not necessarily a 'famous' face that people remember. During her campaign therefore, she does not want
to skip even an inch of her constituency, which has about 13.65 lakh electors.
At 11.20am, Lekhi arrives at Dev Nagar's thickly populated Tank Road area where a battery of BJP supporters are awaiting her at the Shiv Mandir of Ratti Piao. Lekhi begins her campaign by making her way,
barefoot, to the temple to take the blessings of Lord Shiva. She emerges from the temple, sporting a tilak and draped in a red chunni.
As the procession starts moving through the crowded Tank Road market, a local leader yells, "Everybody will follow only one slogan -- Har-har Modi, ghar-ghar Modi. Remember, only this slogan."
Moving slowly amid 300-odd supporters, donning BJP scarves and Gandhi caps, Lekhi's procession turns inside the narrow Padam Singh road. A lot of people wear an amused look, some look dumbfounded, few, particularly the shopkeepers, carry on with their chores. Lekhi's expression is that of unease. The 45-year-old smiles and waves whenever she sees women and children peep out from their balconies.
Any acknowledgment from them makes her wave back vigorously.
At one point, the jeep slows to a crawl before entering a narrow part of the filthy road. A skull cap wearing Muslim youth, egged by the supporters reaches out to Lekhi with a garland. A beaming Lekhi takes
the garland amid the clicking of cameras. The Muslim youth returns to a bylane and removes the BJP scarf from around his neck. "I did it because of the neighbouring shopkeepers. We are not going to vote for
Modi. Moreover, I do not know her," he says without giving his name.
When local BJP leaders realise that the residents do not recognise Lekhi, they chant a new slogan -- "Swagat hai bhai swagat hai, Meenakshiji ka swagat hai."
At the end of a two-hour campaign, Lekhi chooses to address the people for the first time. Those gathered at a chowk are mostly BJP cadre.
"This fight is not mine alone. We all are together in this fight against the Congress' misrule," she starts. "I request you to reach out to those places where I could not go. Each one of you is a Meenakshi Lekhi. Your enthusiasm gives me more courage."
Before returning to her SUV for lunch, Lekhi asks the crowd to shout a slogan, "Ek Bharat, shreshth Bharat!" But ends her campaign with, "Har-har Modi, ghar ghar Modi."