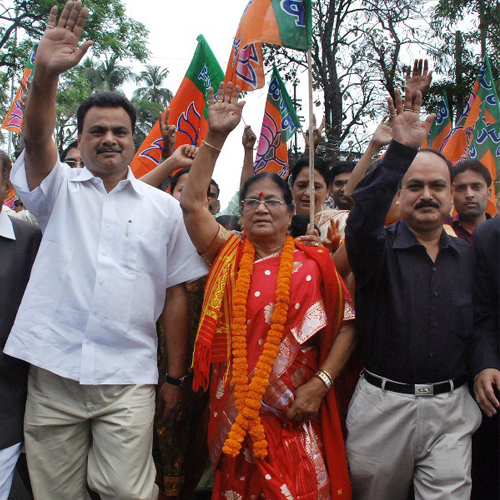 It will be a contest between experience and exuberance when former Union minister Bijoya Chakraborty of the Bharatiya Janata Party (BJP) takes on Manas Bora of the Congress in Guwahati.
The contest in the prestigious seat is being billed as one between a grandmother and a grandson by none other than the Congress candidate himself.
The 75-year-old Bijoya is a seasoned politician. She has worked with the Janata Party and the regional Asom Gana Parishad (AGP) before she decided to don the saffron colour. While in the AGP, she had served in the Rajya Sabha from 1986 to 1992. After the stint in the upper house, she joined the BJP and was made a Union minister in 1999 when the National Democratic Alliance came to power.
In the 2004 polls, the BJP fielded legendary singer-composer Bhupen Hazarika in her place but the move boomeranged as Hazarika lost. The BJP was quick to realise the mistake and re-nominated Bijoya in the 2009 polls, which she won.
This election, Bijoya's principal rival is 32-year-old Manas, a youth Congress leader. He is being seen as a greenhorn though politics is in his blood. Son of Assam's social welfare minister Akon Bora, Manas had won Rahul Gandhi's 'primary' to be nominated from the constituency.
"It will be a contest between a grandmother and a grandson," Manas said recently. Bijoya refused to react on this statement when dna contacted her.
Manas is banking on his minister-father's support base. The fact that six out of the 10 assembly segments in the Guwahati Lok Sabha seat are currently held by the Congress has made him optimistic about his success. He claimed that the voters would reject Bijoya for they have lost faith in their sitting MP.
"She is more an actor than a politician. As an MP, she did very little for the constituency. Also, it's a pity that she couldn't solve the flood and erosion problems of Assam despite once donning the mantle of Union minister of state for water resources in the then NDA government," said Manas. "Assam has 55% young voters. I am a young leader and hence I am confident of my victory."
Bijoya is equally assured. "My prospects are bright. I have been heartily greeted at every place that I have visited. In fact, in some places, people waited for hours to listen to me," she said, adding the perceived 'Modi wave' will also work in her favour.
In 2009, Bijoya was the joint candidate of BJP and AGP, following a seat-sharing agreement between the two. Despite that, she won by just 11,855 votes. She had defeated Captain Robin Bordoloi of the Congress then. Keeping that in mind, chief minister Tarun Gogoi pitched for Bordoloi but the Congress high command went ahead with Manas.
Since BJP and AGP have now fallen apart, Bijoya's biggest threat is the fragmentation of the anti-Congress votes. Apart from Manas, AGP bigwig and former Rajya Sabha member Birendra Prasad Baishya is in the fray. Political analysts feel that Baishya will be able to cut into the anti-Congress votebank. Muslims, who constitute 25% voters in the constituency, will also play a key role in deciding the fate of the candidates.

Constituency profile
Seat: Guwahati
Voters: 19,03,682
Candidates in fray: 18
Prominent candidates: Bijoya Chakraborty (BJP), Manas Bora (Congress), Birendra Prasad Baishya (AGP), Gopi Nath Das (All India United Democratic Front)