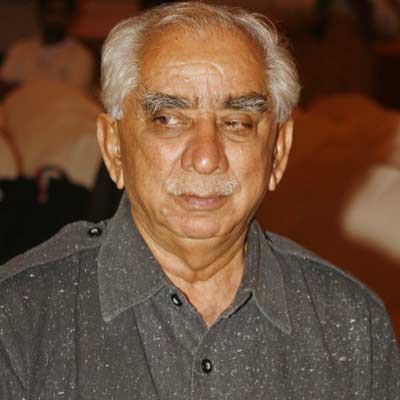 With just two days left, rebel BJP leader Jaswant Singh, footballer and Trinamool Congress candidate Bhaichung Bhutia and former home secretary R K Singh were among candidates who filed nomination papers today for the fourth and fifth phases of polling in 127 constituencies.
Jaswant Singh filed his nomination papers as an independent from Barmer after he was denied ticket by BJP.
Barmer will go to polls on Apil 17 in the fifth phase of elections along with 19 other districts in Rajasthan which has 25 seats.
BJP candidate and sitting MP from Jhalawar-Baran Lok Sabha seat Dushyant Singh was accompanied by his mother Chief Minister Vasundhara Raje and wife Niharika as he filed his papers from the constituency. So far 72 candidates have filed their nomination papers in the state.
In Darjeeling, which Jaswant had represented in the last election, BJP candidate Surinder Singh Ahluwalia filed his nomination papers, besides Trinamool Congress nominee Bhutia and Congress' Sujay Ghatak.
Bureaucrat-turned politician R K Singh filed nomination from Ara Lok Sabha seat in Bihar.
Former Bihar minister and Aam Admi Party (AAP) leader Parveen Amnullah filed nomination for Patna Sahib Lok Sabha seat amid protests by a section of AAP workers.
She will take on actor-politician Shatrughan Sinha of BJP, Bhojpuri film actor Kunal Singh of Congress and noted doctor Gopal Prasad Sinha of JD(U).
Nominations for the two phases will end on Wednesday.
Scrutiny will be on March 27 and the last date for withdrawal is March 29.
In the fourth phase election will be held on April 12 in five seats---three out of 14 seats in Assam, lone seat in Sikkim, one out of two seats in Tripura.
Five candidates, including former Union Minister Santosh Mohan Dev's daughter and Silchar MLA Sushmita Dev, filed their nominations for the three constituencies of Karimganj(SC), Silchar and Autonomous District (ST) which will go to polls on April 12.
Meanwhile, 51 candidates are in the fray following withdrawal of three candidates on the last day today for the first phase polls to five parliamentary constituencies in Assam scheduled on April seven.
There are 13 candidates each in Lakhimpur and Kaliabor, ten in Jorhat, nine in Tezpur and six in Dibrugarh, including five women in the fray.
Among the candidates who withdrew are Independents Gangadhar Dutta and Md Iqbal Ansari from Lakhimpur and Tezpur respectively along with Ram Narayan Singh of Shiv Sena in Dibrugarh.
Among the prominent candidates in the fray in the first phase are the two Union ministers from the state-- Paban Singh Ghatowar from Dibrugarh and Ranee Narah from Lakhimpur-- and controversial former Congress MP Moni Kumar Subba as an independent from Tezpur.
In the fifth phase, election will be held in a total of 122 seats -- seven out of 40 seats in Bihar, three out of 11 seats in Chhattisgarh and all two seats in Goa.
BJP' sitting MP Sripad Naik, who was accompanied by Chief Minister Manohar Parrikarm, and Narendra Sawaikar entered the fray from North Goa and South Goa respectively. Congress candidates Ravi Naik and Aleix Reginald Lourenco also filed their papers.
Election will also be held on the day to all 28 seats in Karnataka, five out of 14 seats in Jharkhand, 10 out of 29 seats Madhya Pradesh and 19 out of 48 seats in Maharashtra.
11 seats each in Odisha, which has a total of 21 seats, and Uttar Pradesh (80) will go to polls, apart from four out of 42 seats in West Bengal and one each in Jammu and Kashmir (6) and Manipur.