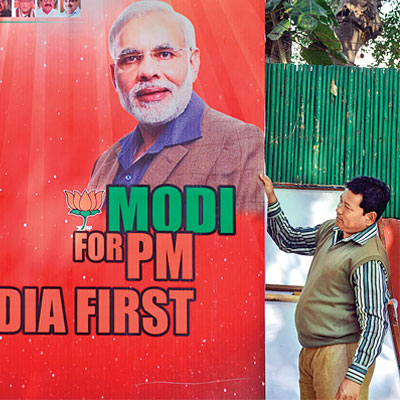 During the British rule, poetry recitations had become part of all Congress sessions and at times the pro-Independence poetry was confiscated by the government.
Decades later, kavi sammelans are going to be part of BJP's political battle. The party is organising around 30-40 kavi sammelans, mostly in Uttar Pradesh, this month as it tries to reach out to voters face to face.
The kavi sammelans, proposed for the first time as part of the BJP's campaign strategy, is part of what the party calls its "man sampark abhiyaan", a programme to touch a chord with the masses.
The theme of these recitations, for which the party will invite artistes from television shows, will revolve around development for all, a party leader said. In around 300 Lok Sabha constituencies, the BJP is trying to use traditional means like folk songs and street plays as part of its campaign strategy in the run up to the polls, a party leader said.
The idea is to use the age old practice, which once had strong socialist overtones while mobilising support, to send a political message to a live audience. While in UP, the party will organise kavi sammelans, in Bihar it will hold conventions of student leaders.
"The BJP is trying to reach out to every segment face to face across the country," said party leader Dharmendra Pradhan. The party has lined out a series of programmes to connect with people who may not fall in the ambit of its social media campaign.
Raths with the slogan "har har Modi, ghar ghar Modi" will move from door to door in Bihar and Uttar Pradesh, the two states which the BJP is heavily banking on for its mission 272+.
According to a BJP leader, 650 such raths are being mobilised in the two states. These raths will cover around a dozen villages in a day playing Modi's speeches and songs. Besides this, party workers will go to house to house knocking on each door thrice as part of the "ghar ghar sampark".
Pradhan said nukkad sabhas (street corner meetings) will be held in almost every booth.
The party has already launched its "one vote, one note" campaign, reviving the Jan Sangh's campaigning style of the early 70s. Modi, in his recent interactions with party leaders, has been stressing on the importance of traditional methods of campaigning along with the use of social media to reach the voters.