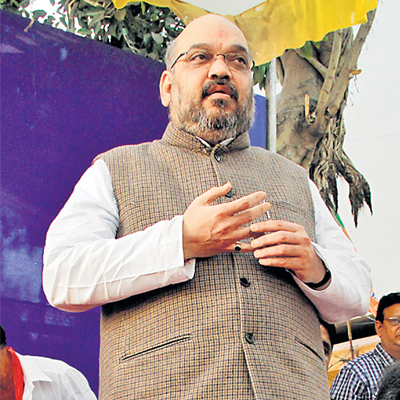 Aiming for unprecedented victory margin, the Bharatiya Janata Party's polling blitzkrieg is all set to take off in Varanasi in a run up to battle of 2014, as general elections are just a week away.
BJP's general secretary and in-charge of Uttar Pradesh, Amit Shah made a strong pitch for the party's victory in Varanasi on Tuesday.
"I have come here today to request to everyone that the elections will go on here till May 12, the last phase of general elections will take place here. The very last vote will be cast in Varanasi. So, I demand your support to ensure that these elections take place on the basis of issues, are positive and are encouraged by democratic feelings and turn out to be a Mahotsav (celebration) of a democracy," Shah said.
Shah stated that the aim was to ensure that prime ministerial candidate of BJP, Narendra Modi, wins from Varanasi with an unprecedented margin and the party unit's endeavour was to see that he defeats his nearest rivals.
Shah also said that the BJP workers of Uttar Pradesh were thrilled over party's decision to select Varanasi constituency for Modi to contest general elections.
"Bharatiya Janata Party is going to win all the ten seats in first phase of elections in Uttar Pradesh. Amid such favourable atmosphere, BJP has selected Varanasi for our prime ministerial candidate Narendra Modi. All we party workers from Uttar Pradesh are proud of this decision," Shah said.
"Varanasi being the oldest civilisation representing mixed cultures will set the foundation for Modi's win across the country and was confident that BJP would emerge victorious with maximum number of seats," Shah added.