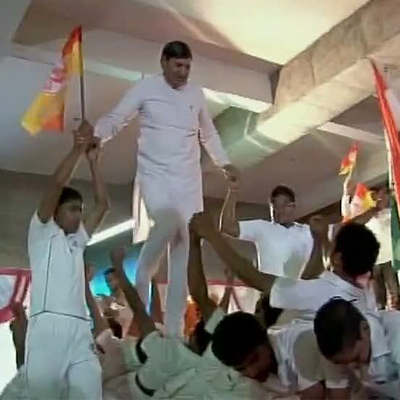 BJP candidate from Rajkot Mohan Kundariya today apologised after a video showing him walking on the backs of some students at a yoga camp in Tankara town of Morbi district went viral.
Kundariya, who is BJP's sitting MLA from Tankara of Rajkot district had walked on a back of nearly 15 students at a yoga camp yesterday. The video clip which showed him walking on the back of students at Maharshi Dayanand Updeshak Mahavidhyalaya, went viral on social networking site and WhatsApp, creating a furore across the country.
The BJP candidate defended himself saying that "the boys forced me to walk over them to check their physical fitness". "Initially I refused to walk on their backs, but they demanded it repeatedly, after which I walked over their backs," Kundariya said. However, he apologised for his act and said, "I did not want to hurt anyone's sentiments and I apologise if anyone is hurt by my behaviour," Kundariya said.
Rajkot Congress MLA Indranil Rajyaguru condemned Kundariya's act and said, "The BJP has become arrogant and it is unfortunate that its Lok Sabha candidate is involved in such activities."
Maharshi Dayanand Updeshak Mahavidhyalaya manager Ramesh Mehta termed such demonstrations as "routine" and said that these are organised by youths regularly. "The programme is called 'bridge', where a bridge is made by a group of youths bending down wards and someone is asked to walk on their backs to show their physical and mental strength. Youths who took part in the event were in the age group of 20 to 25 years. They had demonstrated similar demonstrations in the past," Mehta said.