BJP's party anthem, called 'Main Desh Nahi Jukhne Doonga', was launched on Tuesday, along with a one-minute music video.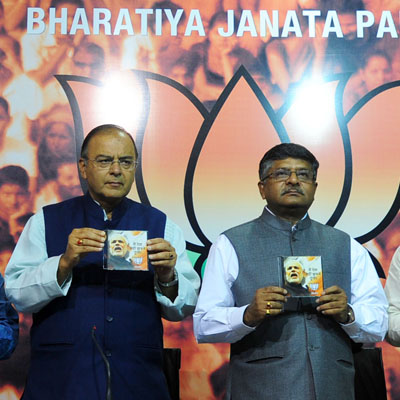 The 'Bharat Vijay Rallies' seem to have officially kicked-off on March 25, with the release of the single 'Main Desh Nahin Jukhne Doonga', BJP's official party anthem.
The song, sung by Sukhwinder Singh of 'Chaiyya Chaiyya' fame, has been composed by Aadesh Shrivastava, who also composed music for 'Raajneeti' and 'Baghban'. It has been penned by Prasoon Joshi, the lyricist for 'Taare Zameen Par' and 'Rang de Basanti'.
Sukhwinder Singh is not the only singer for the song though. Interestingly, Narendra Modi has contributed his strong and powerful voice to certain lines in the song, such as :
'Saugandh mujhe is mitti ki,
Main desh nahi mitne doonga' (I take an oath upon this soil, I will not let my country fade to dust)
and
'Par jaag raha hai desh mera,
Har bharat-wasi jeetega' (But my country is waking up, every Indian will win)
and finally ending with
'Main desh nahi jukhne doonga' (I will not let my country bend down)
BJP leader Arun Jaitley launched the party anthem at a press conference in New Delhi, along with a video of the song as well. However, the visuals accompanying the song are only a minute long.
Jaitley specified that the video would be released in four parts, and that this is only one part of it.
The video starts with the visual of a lotus (symbol of BJP), and progresses into a shot of Narendra Modi in the sky – making him seem god-like.
This is followed by a stream of visuals of the common people of India, such as farmers, construction workers, doctors and nurses, vulnerable women, miners and the unemployed urban youth, all standing on hard, solid ground.
They are stoic and hard-working Indians, who look troubles and seem to be deprived of what they deserve.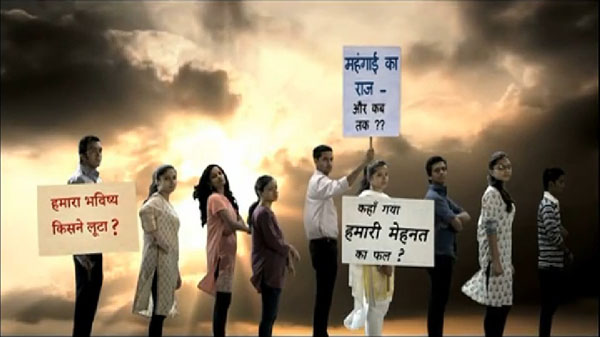 They hold up slogans which address the issues that Modi does in his speeches, such as price rise and the future of the youth.
Then, all of them band together to appear on screen one last time before Modi makes his reappearance.
The song ends with 'Vande Mataram'.
Author's take: With the Lok Sabha elections drawing closer, BJP seems to be pulling out all stops, coming up with an original anthem, accompanied by a video.
What with Kailash Kher composing an anthem for AAP last year, and now this, the time for political parties to ape Bollywood songs (or Billy Joel's 'We didn't start the fire' as Mulayam Singh did) seems to have passed, and the Age of the Original Anthem has been ushered in.