Show-cause notice to BJP's Rajya Sabha MP Ram Jethmalani asked him to explain why he should not be expelled from the party for 'anti-party' activities and indiscipline.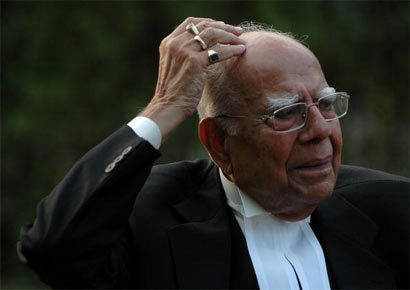 Moving a step forward on his suspension, the BJP on Monday issued a show-cause notice to its Rajya Sabha MP Ram Jethmalani asking him to explain why he should not be expelled from the party for "anti-party" activities and indiscipline.
"The parliamentary board confirmed the decision of national president Nitin Gadkari to immediately suspend Ram Jethmalani for his indiscipline and anti-party activities. He has also been issued a notice on why he should not be expelled from the party for six years," BJP general secretary Ananth Kumar told reporters after the meeting.
Kumar, however, said the issue of the statements made by its Lok Sabha MPs Yashwant Sinha and Shatrughan Sinha against Gadkari and its Leaders of the Opposition in the two Houses of Parliament did not come up for discussion in the meeting. The two leaders have also demanded Gadkari's resignation.
Shatrughan Sinha had also supported Jethmalani in demanding the resignation of Gadkari.
Only the parliamentary board, BJP's highest decision- making body, has the authority to expel a party MP or an MLA.
In 2009, senior BJP leader Jaswant Singh had been expelled without being show-caused even though he is a Lok Sabha MP when he wrote a book praising Pakistan founder Mohammad Ali Jinnah and holding Jawaharlal Nehru and Sardar Patel responsible for the Partition.
Asked why an apparently lenient view has been taken on Jethmalani's actions, Ananth Kumar did not give a direct reply and maintained that the BJP President has the powers to immediately suspend a member.
"Gadkari immediately suspended Ram Jethmalani and referred the issue to the Parliamentary Board for deliberations. After deliberations, the board felt it was the right decision and he should be suspended from the party for anti-party activities and indiscipline," Kumar said.
Sources maintained the show cause is the right course to take as per the BJP constitution. But it was not lost on anybody that Jethmalani could have got this treatment as he is handling the court cases against Gujarat chief minister Narendra Modi in the 2002 riots.
Moreover, with Modi being a rising star, some party leaders are against brushing him on the wrong side by acting against Jethmalani.
Today's parliamentary board meeting was also held against the backdrop of a fresh letter from Jethmalani to Gadkari in which he has explained why he felt Jaitley and Swaraj were against Ranjit Sinha's appointment as CBI Director.
In an earlier letter to Gadkari, Jethmalani had alleged Jaitley and Swaraj were batting for Delhi Police Commissioner Niraj Kumar who was in the race for the CBI Director's post.
Sources said both Jaitley and Swaraj told the parliamentary board that the insinuations made against them by Jethmalani are baseless. Swaraj said she does not even know Niraj Kumar and has never met him while Jaitley maintained that the charges are too indirect and vague and do not add up.
Meanwhile, Jethmalani reacted to the new development by saying he has not yet received any show cause notice and said the parliamentary board must have stated some ground for his suspension.
Asked if his words against Gadkari had led to this action, he said, "I don't know but I am entitled to suspect that."