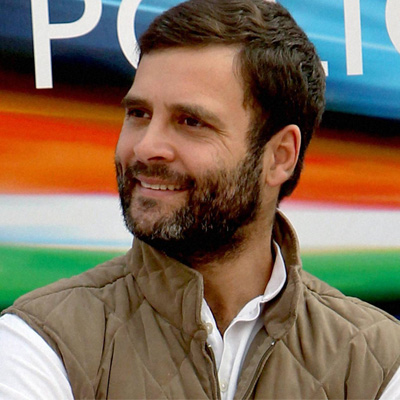 * Opposition doesn't have a long-term vision. They only make tall claims: Rahul Gandhi
* Opposition can lie to any extent to come to power: Rahul Gandhi
* BJP doesn't see RTI, Lokpal or Lokayukta. All it sees is power, so much so that they pitch Hindus against Muslims: Rahul Gandhi
* This leader from BJP cannot see Yeddyurappa in Karnataka or corruption in Gujarat: Rahul Gandhi.
* We will pass the women reservation bill: Rahul Gandhi
* BJP disrupted the proceedings of Parliament: Rahul Gandhi
* If he goes amidst people of Gujarat, he will realise women, Dalits contributed towards its development: Rahul Gandhi.
* The Haryana CM is stealing the people's land and giving it to Robert Vadra, DLF, Ambani: Arvind Kejriwal
* BJP is obsessed with power. All they want is a PM of their own: Rahul Gandhi
* We gave Tight To Education, food security, and now we will give you the right to good health: Rahul Gandhi
* Now after so many years BJP claims that the IT industry developed because of them: Rahul Gandhi
* Rajiv Gandhi talked abt 21st century,abt computers,senior BJP leaders said we don't need computers,it will create unemployment: Rahul Gandhi
* Until the women are given rights we won't become a super power: Rahul Gandhi
* Sonia Gandhi and our PM fulfilled the needs of the Army jawans: Rahul Gandhi
* When tragedy struck Uttarakhand it was the Army which helped pull out of the situation,we are thankful to them: Rahul Gandhi
* Rahul Gandhi: We want the infrastructure here to get functional before the tourist season
* When tragedy struck U'khand we witnessed how everyone got together to help each other,but there few who want to divide nation: Rahul Gandhi
* There is no place for anger and arrogance in politics : Rahul Gandhi
*
Rahul Gandhi addressing a rally in Dehradun pic.twitter.com/d6eNUL3Jz0

— ANI (@ANI_news) February 23, 2014
Elaborate security arrangements have been made in view of Congress Vice-President Rahul Gandhi's rally in Dehradun today.
Uttarakhand Chief Minister Harish Rawat had visited the Parade Ground, the venue of the rally, on Saturday to take stock of security arrangements.
Gandhi will hold a meeting with Rawat to assess relief and rehabilitation work in the calamity-hit areas of the state before addressing the rally in the afternoon.