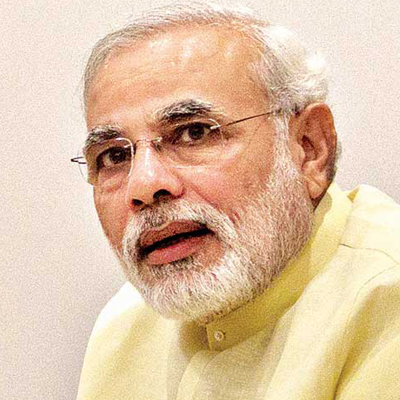 The cancellation of Narendra Modi's rally in the national capital today gave Congress the arsenal to attack BJP.
"After Rahul Gandhi's historic rally yesterday at Dakshinpuri, the BJP has become afraid, and has cancelled the scheduled rally of Narendra Modi at the Ramlila Maidan today," Congress CLP leader Haroon Yusuf and chief spokesperson Mukesh Sharma said in a joint press conference here at the DPCC office.
They also claimed that the BJP has lost the people's support.
The Congress leaders also alleged that the money "illegally collected by BJP leaders was being used for election campaigns in Delhi" and the Pradesh Congress, in a letter to the Election Commission, has demanded an inquiry into the money being spent by the BJP for the election campaigns.
"BJP has cancelled the Ramlila Maidan rally fearing that people will not turn up for the rally and despite this the party is still launching 3-D campaigns which does not make any sense.
"Each such screen costs around Rs 15 lakh, the BJP is talking about installing 15 such screens in Delhi. The party would have to account for these expenses to the people of Delhi," said Yusuf.
Both the leaders alleged that this money had been collected from blackmarketeers, and the BJP is spending crores of ruppes in such a manner, through which the real face of the BJP has been exposed before the people.
They also claimed that Congress will have direct contest with the BJP in all the seven Lok Sabha seats in Delhi and AAP candidates will not be able to save their securities.
"The manner in which thousands of people from the resettlement colonies and the JJ Clusters had thronged the historic rally addressed by Rahul Gandhi at the Ramlila Maidan at Dakshinpuri yesterday showed that the AAP has lost its support base among the poor people's colonies," they said.
All the seven AAP candidates would not be able to save even their security deposits in the seven constituencies in Delhi, they said.
On the occasion, several leaders, including Abdul Hamid Babu Khan Barsi, former BJP Municipal Councillor Ashwini Ahuja and Prem Wadhwa, who had contested on BSP ticket from Timarpur, ex-Councillor and JDU leader Pramod Kumar today joined the Congress party.