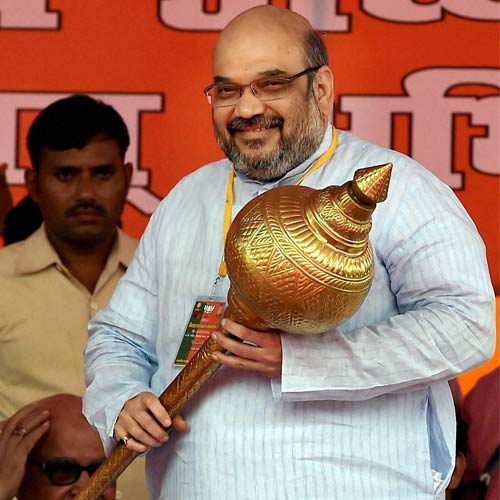 BJP on Friday said the formation of BJP government in the strategically important state of Jammu and Kashmir was "a national requirement", and urged the people to defeat National Conference (NC), Congress and People's Democratic Party (PDP) in the upcoming assembly polls.
"We urge the people of Jammu, Kashmir and Ladakh regions to decimate the pro-Pakistan NC, Congress and PDP in the assembly elections and give BJP the mandate to form next government in the state," state BJP president and Jammu MP Jugal Kishore Sharma said on Friday.
"Formation of BJP government in the sensitive and strategically important Jammu and Kashmir is a national requirement," he added.
The manner in which the three parties worked in tandem in the Legislative Council on August 28 to get "the anti-India and pro-Pakistan resolution" passed has thoroughly exposed them and established that there is no difference between these parties and separatists like Syed Ali Shah Geelani, Mirwaiz Umer Farooq, Yasin Malik and Shabir Shah, he said.
"The NC, Congress, PDP and separatists are operating from different platforms, but their agenda is one and only one...," he said.
The BJP MP said the people of the state need a government that will take care of all sections of society and all the regions and that BJP's "mantra is 'Sab Ka Saath, Sab Ka Vikas', which is being appreciated across the country".
Commenting on the Council resolution, the BJP chief said it constituted a direct onslaught on the very institution of the Indian state and the country's unity, integrity and sovereignty.
The BJP-led NDA government, which had cancelled Foreign Secretary level talks with Pakistan on August 18, will also "throw the resolution into dustbin", Sharma said.
He said the people of the state would abandon NC, Congress and PDP and join BJP in large numbers to rid the state of all undesirable elements and forces.