Even if one of 20 amendments moved by Saffron party is approved in Rajya Sabha, bill will have to go back to lower house.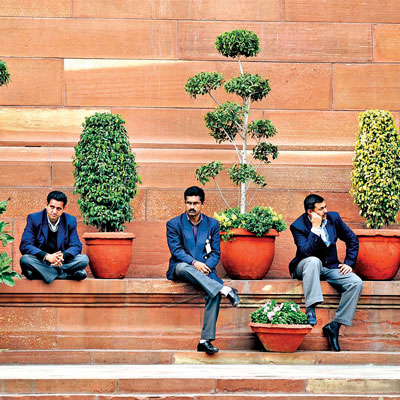 The formation of the 29th state faced a last-minute hurdle in the Rajya Sabha on Wednesday. The Bhartiya Janata Party (BJP), which had supported the passage of the Bill in the Lok Sabha a day earlier, put the government on tenterhook when it moved 20 amendments. After many adjournments, the discussion was put off until Thursday to find time for a compromise.
The BJP's tactical move has sent the government's plan haywire; it was planning to set up the new state ahead of the Election Commission's likely announcement in early March for the schedule of general elections. Government sources told dna that the idea was also to let the Election Commission hold simultaneous Assembly elections for the two states along with the upcoming Lok Sabha elections.
If the Rajya Sabha approves the bill even with just one amendment, it will once again go to Lok Sabha. But time is running out for the government as the Parliament session will end on Friday. The government has set a deadline of early next week to create the state of Telangana by securing the President's assent and issuing the gazette notification to bring it into existence.
On Congress president Sonia Gandhi's initiative, Prime Minister Manmohan Singh stepped in on Wednesday to hold a meeting with Rajya Sabha Opposition leader and former BJP President M Venkaiah Naidu.
Singh impressed upon them to help in passing the Bill without any amendments. He reportedly offered the BJP the announcement of a hefty compensatory package to Seemandhra, the non-Telangana region of Andhra Pradesh, as sought by the BJP through its amendments.
Insiders said the BJP insisted on a constitutional amendment to empower a common governor to be the custodian of security for 10 years and that Hyderabad be a common capital for similar number of years, complicating matters further for the government.
While both these issues form part of the Andhra Pradesh Reorganisation Bill, the BJP's insistence on making it a constitutional amendment legislation requires order in the House, as it entails mandatory division, which was avoided by Speaker Meira Kumar while seeking the bill's passage on Tuesday.
Even though the Bill was not taken up on Wednesday, the Rajya Sabha had another day of noisy protests by anti-Telangana MPs. The government had plans to get the Telangana bill passed amid the din as it did in the Lok Sabha but it backed off because the BJP urged the Rajya Sabha Chairman Hamid Ansari to ensure a proper discussion on the Bill as it was an important piece of legislation that ought not be rushed through without debate.