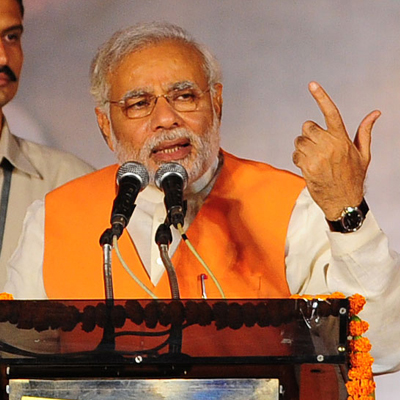 For the first time in Lok Sabha elections, BJP will use use the 3D Holographic projection technology at 100 places across the country to relay public addresses by its prime ministerial candidate Narendra Modi. Of these places, as many as 10 locations will be in Maharashtra, including one in Mumbai on April 6.
Modi had experimented successfully with the same technology during the Gujarat assembly elections and will use it to maximum effect in this election too.
The 3D technology is a high definition projection technology in which a person's image is captured in a 3-dimensional aspect and projected at multiple locations at a time.
The viewer or the person attending the meeting will feel as if he is actually interacting with the speaker and there is no need to wear any kind of 3D glasses.
"People will be called to a pre-defined location where they will get a feeling that Modi is standing among them and addressing them. With this technology, it will enable Modi to reach out to maximum people across the country without actually being present at various locations," said a BJP leader.
Leader of Opposition in the Legislative Council, Vinod Tawde said, "After Uttar Pradesh, the maximum demand for Modi's meetings are coming from Maharashtra. With the 3D technology, Modi will address people in several places. They include Mumbai, Solapur, Bhiwandi, Akola, Gondia, Wardha, Bhandara, Chandrapur, Chimur and Gadchiroli."