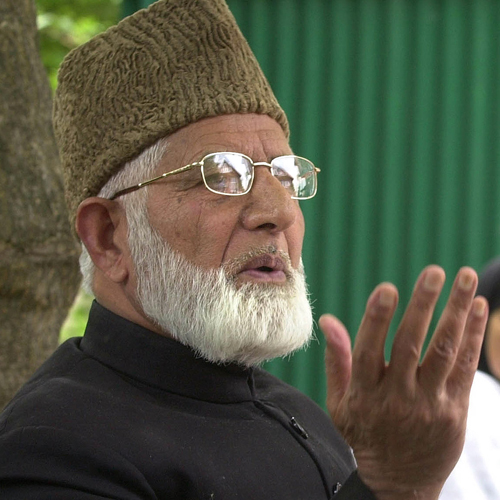 Pressure is mounting on Hurriyat hawk Syed Ali Shah Geelani to reveal the names of BJP leader Narendra Modi's emissaries, who he claimed came to meet him in New Delhi.
Geelani had claimed on Friday that Modi had sent two Kashmiri pandits as emissaries seeking his help in resolving the Kashmir issue, and that the emissaries had offered to get him through the BJP's prime ministerial candidate. The pro-Pakistan hardliner, who said he had rejected the offer, claimed that a separatist group was already in touch with Modi's representatives.
"No emissary has either tried to meet or met Geelani to discuss the Kashmir issue. On the Kashmir issue, the BJP's stand is very clear — that Kashmir is an integral part of India and there cannot be any room for deliberations on this," the party said in a release.
"So who is lying SAS Geelani or the NaMo campaign? Easy way to find out - let SASG identify the emissaries who met him on behalf of NaMo," tweeted J&K chief minister Omar Abdullah.
Unfazed, Hurriyat hardliners said they will not reveal the names of the emissaries as they have given their commitment in this regard. "Geelani had told them that he will make it (meeting) public. They requested that their names should not come. Geelani committed that we will not reveal their names. We are bound by our commitment. But we stand by what we said," said Geelani-led Hurriyat Conference's chief spokesman Ayaz Akbar.
Geelani's finger pointing at another separatist group for being in league with Modi's emissaries also sparked a stir. Moderate Hurriyat Conference chairman Mirwaiz Umar Farooq held an extraordinary session of the executive council to discuss the issue.
A fuming Mirwaiz later said that Geelani is trying to create a "vicious atmosphere". "We want to make it absolutely clear that he (Geelani) is creating a vicious atmosphere. I don't know who he wants to get killed.
Who is his next target? I ask people to be vigilant, to be very open as far as their policies are concerned," said Mirwaiz. "We are cautioning Geelani that this nation will never forgive him. Our patience should not be seen as a weakness. Do not compel us to come out on the streets or in the media."