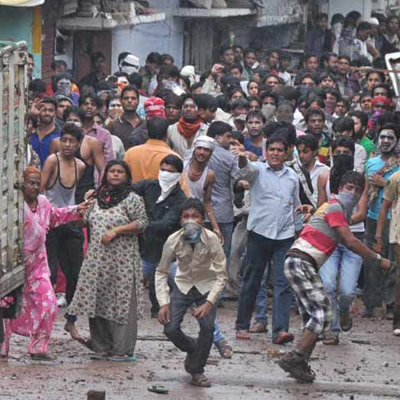 Moradabad Commissioner Shiv Shankar Singh said here on Sunday that the Bharatiya Janata Party (BJP) delegation who had arrived in the city to investigate the reason behind Kanth violence have been denied permission to visit the site due to the prevailing tensions. "The BJP delegation in Moradabad hasn't been given permission to go to the site because of tension in the area," said Singh.
Meanwhile, Samajwadi party (SP) leader Gourav Bhatia criticised BJP for trying to repeat Muzaffarnagar violence in Moradabad.
"In Moradabad we are seeing yet again that the BJP is trying to replicate its model that they used in Muzaffarnagar riots to orchestrate the riots. The state government has acted promptly and strictly, and I assure that in the future also no BJP leader how senior he might be would be spared if they try to vitiate the atmosphere in Moradabad," Bhatia told ANI. He further blamed BJP for purposely instigating communal riots due to the upcoming by-elections.
"The by-poll election is the main reason why BJP wants communal riots in Uttar Pradesh. The communal politics of BJP has always been their main plank. The development agenda that they spoke about during the elections is only a facade to mislead the people of this country," he added.
"On behalf of the state government, the District Magistrate (DM) and Senior Superintendent of Police (SSP) have taken a very positive approach of taking along persons from both the communities. There was a settlement between the various communities, the BJP MP signed that agreement however later on unfortunately, there was a change in mind of BJP leaders and they decided not to honour the agreement," said Bhatia.
Earlier today, BJP leaders had arrived in Moradabad to meet the victims of Kanth violence and their party workers seeking to investigate the reason behind the recent clash between the local police and the BJP workers.