The Bharatiya Janata Party (BJP) Thursday announced its first list of 54 candidates for the Lok Sabha elections and fielded former party president Nitin Gadkari from Nagpur.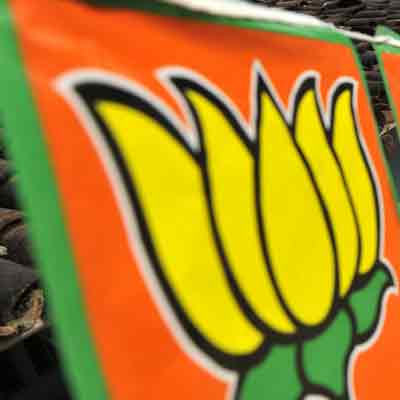 The Bharatiya Janata Party (BJP) Thursday announced its first list of 54 candidates for the Lok Sabha elections and fielded former party president Nitin Gadkari from Nagpur.
The list was announced after a meeting of the party's central election committee.
It includes candidates for Jammu and Kashmir, Arunchal Pradesh, Goa, Manipur, West Bengal, Odisha, Maharashtra and Himachal Pradesh and has several sitting and former parliamentarians.
Former union minister Shanta Kumar has been fielded from Kangra in Himachal Pradesh while Anurag Thakur, president of Bharatiya Janata Yuva Morcha, has been retained as candidate from Hamirpur.
In Jammu and Kashmir, the BJP fielded state chief Jugal Kishore Sharma from Jammu and state spokesman Jitender Singh from Udhampur.
Other candidates from Jammu and Kashmir include Thunpsthan Chhweang (Ladakh), Mushtaq Ahmad Malik (Anantnag) and G.M. Meer (Baramulla).
The BJP declared 17 candidates from West Bengal, including former lawmaker Tapan Sikadar (Dum Dum), state party president Rahul Sinha (Kolkata Uttar), and magician P.C. Sorcar Jr. (Barasat).
Apart from Gadkari, 17 candidates declared from Maharashtra include sitting parliamentarians Gopinath Munde (Beed), Hansraj Ahir (Chandrapur), Dilip Gandhi (Ahmadnagar) and former MP Kirit Somaiya (Mumbai North East).
The party fielded former lawmaker Kiren Rijiju from Arunachal West and another former parliamentarian Tapir Gao from Arunachal East.
Shripad Y. Naik was retained from North Goa and Narendra K. Sawaikar has been fielded from South Goa.
In Odisha, the BJP has fielded Jual Oram from Sundargarh and Sangeeta Kumari Singh Deo from Bolangir. The party declared six candidates from Odisha.
The party retained Virender Kashyap as its candidate from Shimla.
Of the two seats in Goa, sitting MP from North Goa Shripad Yesso Naik will recontest from the seat while Narendra Keshav Sawaikar, state party general secretary, will contest for South Goa.
In Arunachal Pradesh, former MPs Kiren Rijiju and Tapir Gao will contest from Arunachal West and East seats respectively.
In Manipur, R K Ranjan Singh will contest from inner Manipur while Gangmumei Kamei will fight for Outer Manipur (ST) seat.
Among the 17 candidates from Maharashtra in the first list, the party decided to field Kirit Somaiah from Mumbai North-East instead of Poonam Mahajan, daughter of BJP's late leader Pramod Mahajan, who was vying for the seat.
BJP has fielded cancer surgeon Subhash Bhamre from Dhule seat, sitting MPs Ashok Tapiram Patil and Sanjya Javle from Raver and Akola seats, sitting MLA Nana Patole from Bhandara- Gondiya seat and state president of the ST Morcha Ashok Nete from Gadchiroli-Chimur (ST) seat.
Sitting MPs Hansraj Ahir from Chandrapur, Ravsaheb Danve Patil from Jalna seat and Harishchandra Chowhan from Dindori (ST) seat, while former MPs D B Patil and Chintaman Vangna will contest from Nanded and Palghar (ST) seats.
Dilip Gandhi will contest from Ahmadnagar and former MLA Sanjaykaka Patil from Sangli in Maharashtra.
In West Bengal where the party finalised 17 candidates, state president Rahul Sinha will contest from Kolkata Uttar and former state president Tathagat Roy will fight it out in Kolkata Dakshin. Subhash Sarkar, BJP state vice president, has been fielded from Bankura.
Former DIG Satyalal Sarkar has been fielded from Jalpaiguri (SC) seat and retired IPS officers Sujit Kumar Ghosh and R K Mahanati from Murshidabad and Uluberia seats, party's state general secretary Biswapriya Roychowdhary from Balurghat, party's district president Hemchandra Burman from Cooch Behar (SC) and district general secretary Samrat Ghosh from Jangipur.
Sitting MP from Shimla (SC) in Himachal Pradesh Virender Kashyap will recontest from the seat.
In Jammu and Kashmir, state president Jugal Kishore Sharma from Jammu and state spokesperson Jitendra Singh will contest from Udhampur while Thunpsthan Chhewang has been fielded from Ladakh, state president spokesperson
From Odisha, former Minister Jual Oram will contest from Sundargarh (ST), while former state president Suresh Pujari will be in fray in Sambalpur and former MPs Rudra Narayan Pani and Sangeeta Kumari Deo from Dhenkanal and Bolangir respectively. Former MP Parsuram Majhi will contest from Navarangpur (ST) and Baidhar Mallik from Jagatsinghpur (SC) seat.