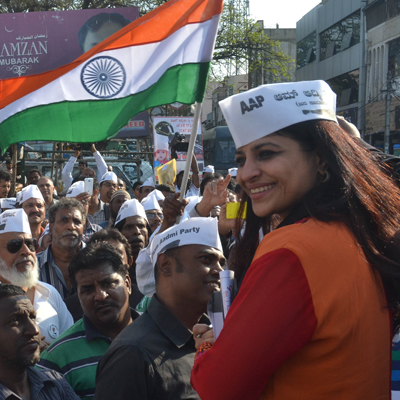 The Bharatiya Janata Party on Wednesday criticized Aam Aadmi Party (AAP) leader Shazia Ilmi over her statement, where she asked Muslim leaders to be 'communal', and called on the Election Commission to take appropriate action against her.
BJP's vice president and party spokesman Mukhtar Abbas Naqvi said, "It is a very condemnable. There is conspiracy to spread communal poison among the people. Shazia Ilmi must give an explanation for it. We condemn this."
"She should immediately apologise for her comments. Otherwise, the Election Commission should take appropriate action against her," he added.
In a video posted on Youtube, Ilmi is seen appealing to Muslim leaders to be communal.
"I am saying Muslims are very secular. Muslims need to be communal. A Muslim isn't communal - doesn't vote for his own. Arvind Kejriwal is one of you. You are too. Don't be this secular. Look after your own homes interests," Ilmi said in the video.
Meanwhile, the AAP has issued a clarification through Twitter, saying "AAP does not believe in this kind of politics nor does it endorse it."