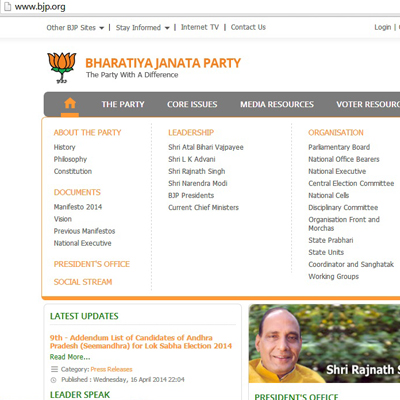 People in Pakistan cannot access the BJP website as the saffron party has blocked its Internet page though its high-profile Prime Ministerial candidate Narendra Modi's portal can be accessed for those who want to know about him. "Error 1009 The owner of this website (bjp.org) has banned your IP address (---) on the country or region you are accessing it from," says the page as one logs in from here.
People logging in from Pakistan have to use Virtual Private Network, masking Pakistani IP address to log into the BJP website.
The party had attached on its Twitter handle links to a 'charge sheet' it had recently released against the UPA government but the links did not work for those logging in from Pakistan.
Some questioned the logic of blocking the access saying even if someone fears hacking, hackers don't use their own IP addresses. Be it the government or local Pakistanis, everyone is eager to know about the general sentiments and trends as to who will form the next government.
However, asked about Modi, top Pakistan government officials say they are willing to "deal" with whoever forms the government after the Lok Sabha elections and that includes Modi.
Even though the 2002 Gujarat riots loom large here, Pakistan is hopeful that the peace bogey would not be derailed if the UPA government is replaced by Modi-led NDA.
Pakistan Prime Minister Nawaz Sharif, who has stressed on the need for better ties with all its neighbours, had said his country believes in good relations with India "regardless of whosoever is in power".
Asked what will be Pakistan's strategy if Modi comes to power, Foreign Office spokesperson Tasnim Aslam said, "I understand India is undergoing elections, a normal election in democracy and we also have seen reports follow that BJP seems to be in a strong position."
She said the elections are an internal affair of India and it is for Indian people to decide, to exercise their right, to choose and elect a government. "We deal with countries... So, we hope that whoever is elected in India would have that conviction and consciousness that peace is something that we owe to our people," she told PTI recently in an interview. Tasnim added that Pakistan strongly believes that "our region needs peace for economic development, for better life for our people. They deserve it".
For Pakistan, it seems, the UPA government is most likely on its way out and Modi could come to power.
The indication came after the government here put off a crucial cabinet meeting that was set to approve the much-delayed liberalised trade agreement with India.
Pakistan has made it clear that it will sign the agreement with the new government in India. Analysts say this is so because Pakistan wants trade to be an ice-breaker to deal with whoever comes next in New Delhi.
Many here in the government believe that Modi's coming to power can actually lead to better ties with India. Pakistan's Advisor to Prime on Foreign Affairs and National Security Sartaz Aziz said his efforts to ease tensions with India would not be affected by Modi becoming Prime Minister.
In a interview to a UK daily, he recalled how Atal Bihari Vajpayee paid an official visit to Pakistan in 1999. "Personally I'm not worried," said Aziz. "Firstly, we should deal with anybody who the people of India elect and secondly, let's not forget that the last time we had a breakthrough in our relationship was also with a BJP government. Mr Vajpayee was from the BJP. I think before an election, politics is slightly different – more nationalistic and so on – but after elections you handle state affairs."
Former Pakistan military spokesperson Maj Gen (Retd) Attar Abbas said, "Modi stands for anti-Pakistan rhetoric and allegations in his election speeches. When in power, corporate interests behind him may trump political expediencies." Asked if he predicts a major shift in India's military and security policy vis-a-vis Pakistan, he told PTI, "Security and foreign policy is well entrenched and mature. Establishment will take over him. Modi will be more of an Indian headache than pain in Pakistan."
The taint of 2002 Gujarat riots remains on Modi here.
"How will he treat the Muslims in India? Wouldn't the extreme right-wing organisations in Indian not get emboldened? What will be his Pakistan policy?" These are some of the frequent questions that come up whenever an Indian interacts with anyone here, be it from the government or the common man.