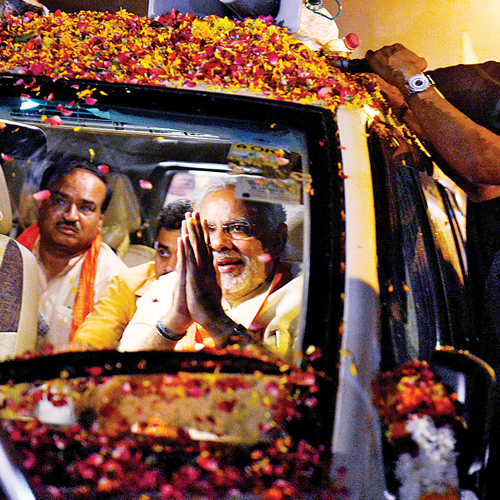 As Narendra Modi registers win with huge margin from Vadodara and Varanasi in the General Elections of 2014, it is quite clear as to who will India have as the Prime Minister. But that's not enough. There are a few things that Indians can expect out of the new government and Prime Minister in the coming days:
1. Business friendly enviornment: Known for his ruthless decisiveness in granting super-fast industrial approvals, superfast industrial growth can be expected after Modi swears in as the prime Minister of India. Modi has always had a zealous pro-business agenda. History shows huge tax write-offs in Modi's "Gujarat model" which has helped corporates like Ambani's and Adani group to reach the position they are on currently.
2. Development agenda: 'Minimum government, maximum governence' was the quote Narendra Modi gave when he was campaigning for Lok Sabha elections. He assured boost in the infrastructure sector, improvement in the processes of governance, making bureaucracy more accountable and also redefining Centre-state relations. His ideas are expected to bring in more centralised form of functioning where everyone will be responsible and accountable for the tasks they are assigned.
3. Border security and foreign policy: Described as strident, Narendra Modi's government can be expected to bring in a huge change in India's foreign policy. More assertive response might be seen regarding cross-border terrorism, greater attention to long term policy planning and a greater military role in reforming India's national security.
4. Women issues: Modi, as he mentioned in his speeches, will bring about empowerment of women in both economic and social sphere in the country. He believes that women must be treated equally and with respect. His ideology does not have even a small part of discrimination against women. For women's security, Modi-led government will have the 'niyat' to change the present situation.
5. Section 377: As the Modi government takes charge, it will be an another retrogade time for the LGBT community of the country. RSS and BJP will stand by what they had said earlier, "homosexual acts are wrong". Only BJP leader Arun Jaitley has an entirely different stand on the issue, as he's mentioned before.