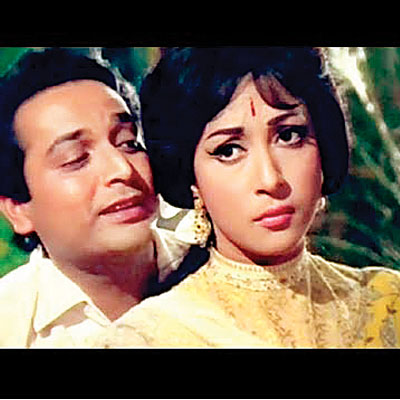 Back in the 1960s and 1970s, Biswajit Chatterjee was the quintessential chocolate-boy romantic hero, singing and dancing around trees. The Biswajeet Chatterjee, who walks into the cramped cabin that functions as his campaign office in New Delhi where he is the Trinamool Congress candidate in the upcoming general elections, is a shadow of that persona. Gone are the rosy cheeks and fair complexion that would give his heroines a complex.
The only pointer to his long association with show business is his careful attention to attire — white shirt and trousers, angavastram with TMC colours around his neck, two shining brooches (one a photograph of didi Mamata Banerjee and another of the flowers-and-grass party symbol), a jaunty baseball cap and dark glasses. It's the casual, dressed-for-a-day-in-the-hot-outdoors look.
As Chatterjee sits down behind the large desk, a party worker comes up with a printout of images. These are for cutouts and he wants Chatterjee to tell him which one he should use — the one where you look like a neta, dada, or this one where you look like a hero, he asks. "Shouldn't you take the one where my face is seen clearly?" asks the actor, clearly familiar with this one aspect of his fledgling political career.
Chatterjee faces a formidable opposition in the New Delhi constituency in sitting MP Ajay Maken, BJP's Meenakshi Lekhi and Aam Aadmi Party's Ashish Khetan. Barely a fortnight to go for voting (April 10), Chatterjee is, however, yet to hit the campaign trail; he has so far only recorded an audio clip in which he appeals to voters in his Bengali-accented Hindi to give him their 'bahumula' votes.
"I will go out there and spread the message. But it is upto the party to ensure that they arrange resources and people to put the campaign together," Chatterjee told dna.
Chatterjee is a rank outsider in Delhi, and likely to end up in the fourth position. A Kolkata native, the 77-year-old now lives in Mumbai. He started out as a star in Tollygunge and made his Bollywood debut in Hemant Kumar's Bees saal baad in the early 1960s. While his films did not always set the cash registers ringing, he gained popularity for his songs. At the same time, he rose to star status in Tollygunge.
The outsider tag does not faze him. "I was not afraid when, as a newcomer in Bombay, I was asked to act opposite top stars and I am not worried now," he says.
New Delhi voters, though, might be hard to convince. After all, Chatterjee's films, though quite successful, happened a long time ago. Few remember them now, except for their songs — Pukarta chala hun main" Bekarar karke hamein yun na jaaiye, Yeh nayan dare dare, and many others — that are played frequently on radio. "My songs are still very popular. Wherever I go, in all my press interviews I am asked to sing. I have decided that my recorded speeches will begin and end with my songs," Chatterjee says.
It is only with the Bengalis that Chatterjee is still a big star, and New Delhi constituency has a sizeable number of these, in areas like CR Park and Karol Bagh. Chatterjee realises his appeal among this native community and has already reached out to the local cultural clubs and offered puja at the Sarojini Nagar Kali Bari. "The young men at Karol Bagh youth club were very enthusiastic and have promised to come out and help whenever I need it," he says.
A fervent admirer of Subhash Chandra Bose, on whom he's made two films, Chatterjee says he agreed to contest when TMC chief Mamata Banerjee asked him to because he was inspired by Netaji's "Dilli Chalo" slogan. "I have got that opportunity now," he says.
"My songs are still very popular. I have decided that my recorded speeches will begin and end with my songs"
— Biswajit Chatterjee, Actor and TMC candidate from New Delhi