Banjara Hills neighbours remember down-to-earth, cricket-loving Nadella.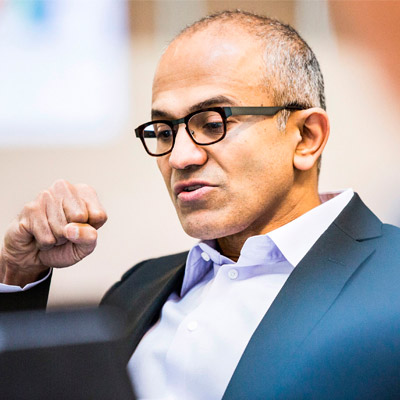 Satya Nadella's neighbours back home in the Sagar housing society in Banjara Hills, Hyderabad, where he grew up, never thought the "lanky boy" will make it so big in life — become the CEO of the world's largest software giant, Microsoft.
But they are happy and proud of Nadella's achievement. Local vendors too could not believe their ears. Venkayamma, a 62-year-old woman who washed and ironed Nadella's clothes when he was a boy, asked: "Is that so? That boy who used to wander on a bicycle, who was even scared of beggars, has become such a big shot..."
On Tuesday night when the media made a beeline for an interview with Nadella's father BN Yugandhar, he said he had nothing more to add. "If you have seen my son's email to his colleagues... there is everything in it. I can get a copy for you all if you want," he said. On persistent questioning, the former secretary to PV Narasimha Rao and later a planning commission member, quipped: "What more can I say... do you want me to tell you how I raised him?"
But it was a happy occasion for former IAS officers Yugandhar and KR Venugopal, Nadella's father-in-law. Apart from distributing sweets, family members were busy answering phone calls from well-wishers that included prime minister Manmohan Singh, Andhra Pradesh chief minister Kiran Kumar Reddy, and governor ESL Narasimhan. "Please give us some privacy. We will call you if we have to say something," Yugandhar said.
Friends, associates and acquaintances of 46-year-old Nadella described him as a wonderful combination of common sense and intelligence. He keeps a low profile and hates publicity.
His teachers and former classmates at the Hyderabad Public School were excited. Faiz Khan, a contemporary of Nadella and member of the school's governing body, said: "Besides cricketer Azharuddin and CM Reddy, Nadella has made the school very proud."
Nadella's wife Anupama too is a HPS alumnus.
Vijay Sarathy, a classmate, remembered Nadella as "friendly and extremely helpful". Another friend, Chandrasekhar, said he was a bright student and helped classmates. "No one had any issues with him... He was good in sports. He played good cricket and was always ready for any teamwork," he said.
Many of his relatives said Nadella never threw his weight around. "Though his pay package is around Rs48 crore per annum, he preferred to travel by train to Tirupati and by Volvo bus to Bangalore," his brother Kalyan said. "He often put up in not so famous hotels in Mumbai and Delhi to ward off the media."
Nadella visited his village Bukkapuram whenever he found time during his visits to Hyderabad. Bhukkapuram sarpanch Bhimshankar said he ate local food whenever he was in the village. "He even used to clear cow dung."
His family still owns 10 acres of land. They have leased it out for groundnut and chilli cultivation. They have helped build a temple, good roads and a community hall in the village, the sarpanch said.
Ramdas Pai, chancellor of Manipal University, said it was "a very proud moment for all of us". Nadella did his engineering degree from the university. "One of our students has made it so big... It is surely something that we all cherish from the bottom of our hearts."
Harishchandra Hebbar, who taught him digital electronics at the Manipal Institute of Technology, said Nadella was a good listener and someone who asked a lot of questions.
A neighbour said: "We know his father very well. All we knew about Nadella is that he worked in the US with Microsoft. None of us really knew that he had made it so big. This has a lot to do with the fact that his father has always maintained a low profile and never tom-tomed his son's achievements."