Flight Lieutenant Tapan Kapoor cremated in presence of family, friends and citizens.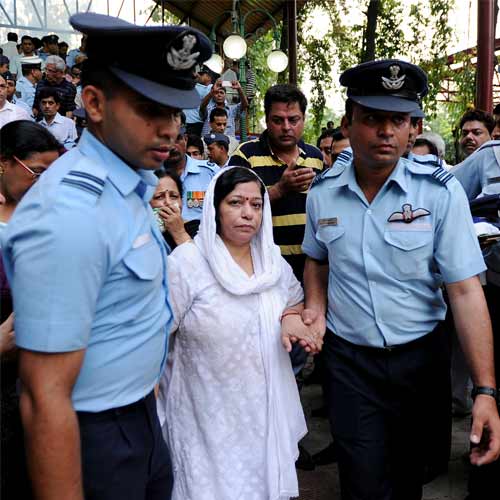 An eerie silence prevailed in the otherwise bustling Kinari Bazaar area in Chandni Chowk on Friday. All shops in the area remained closed and hundreds of people holding wreaths, flowers and the national flag quietly lined up the narrow bylanes of Old Delhi to pay respects to Flight Lieutenant Tapan Kapoor of the Indian Air Force who was killed in a helicopter crash on Tuesday while rescuing stranded people in flood-ravaged Uttarakhand.
An even larger crowd comprising Kapoor's colleagues, friends, family, his school principal, local politicians, Union minister Kapil Sibal, and residents of the Chandni Chowk area packed up the Nigam Bodh Ghat for the emotional funeral. Kapoor was laid to rest here with full state honours.
Twenty-seven-year-old Kapoor had been home for a brief holiday till June 15. He had just returned to duty at Barrackpore when a call from the headquarters assigned him to the Uttarakhand rescue operations. "His family members were obviously worried considering the situation in Uttarakhand at the time. However, Tapan remained unperturbed.
He said that if he had decided to dedicated his life to the nation, a call of duty should not be any reason for anxiety," said Atul Jain, Kapoor's cousin. "The turnout at the funeral showed Kapoor was loved by everyone. He quit a comfortable private job to join the Air Force," said IAF Flight Lieutenant Vidhi, Kapoor's colleague. An aeronautical engineer, a basketball player and a keen guitarist, Kapoor was the head boy at Ramjas School in Delhi.
He had last called his family members the night before the crash. He sacrificed his life for the country and while our grief cannot be described, his family and friends are very proud of Tapan," Jain said.
Kapoor is survived by his parents Naresh and Lata Kapoor, and sister Shweta.