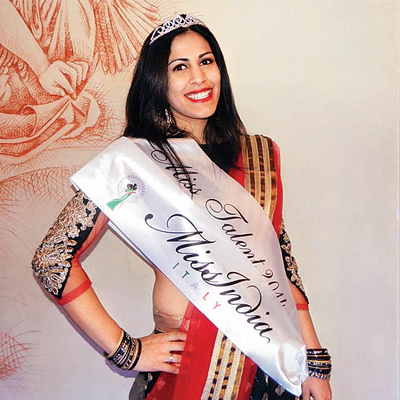 Bhumroo bhumroo.....is all set to make a splash at Miss India-Worldwide beauty pageant to be held in Dubai next month.
Thanks to 20-year-old India-Italy Revan Satinder, the eternal lines of Dina Nath Nadim, the revered Kashmiri poet of yore who penned the original Bhumroo song, will enliven the Indian expatriate beauties on the ramp. Bhumroo bhumroo shyam rang bhumroo… was also the essence of the hit number of Sanjay Dutt, Hritik Roshan, Priety Zinta starrer 'Mission Kashmir'.
"I am learning choreography from Jammu for Miss India worldwide contest. My choreography is themed on the women empowerment. I am doing a classical dance. There will be dash of Kashmiri as well. It will be Bhumroo bhumroo…" Revan told dna.
Revan, a Jammu girl settled in Italy, created history early this year when she became the first beauty queen from Jammu and Kashmir to win Miss India-Italy and Miss India-Italy best talent among the 25 beauties of Indian origin.
A student of political science and international relations, Revan is now vying for the coveted title of Miss India-Worldwide to be held in Dubai next month. She will be competing with 40 girls of Indian origin from 40 countries.
Daughter of a top Jammu businessman, Revan moved to Italy after initial schooling in Punjab. "Now I am pursing studies international relations and global politics. I would like to join a NGO just to work for women empowerment in India," she said.
It was Revan's love for Indian culture which prompted her to participate in Miss India-Italy contest. "It turned out to be a nice experience. I find myself close to India now: Indian music Indian clothes and all that stuff. I came across face book and my friends told me just go for it. And I was the only girl from Jammu," she said.
Strange it may sound but it is true. Revan is not aiming for Bollywood and instead preparing to do a stint in NGO to work for the women empowerment.
"I want to do my masters degree first. Bollywood is not my dream. It sounds strange; I want to work for women empowerment. But if I get some opportunity (to work in bollywood) it will be nice," she said.
Revan has travelled all the way from Italy to Jammu to train in the classical dance themed on women as a warrior. "India is facing so many rape cases and women are killed. I feel women should be more motivated like a warrior not abala, bechari. Women should be stronger. My dance will showcase it in the pageant," she said.