The bodies of eight of the twenty-five victims who were swept away in the turbulent waters of the River Beas have been recovered so far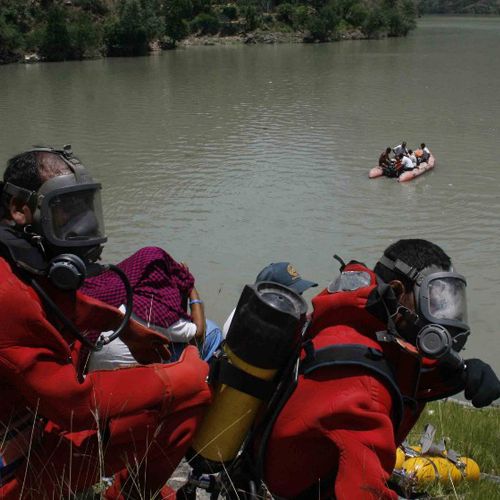 The National Disaster Response Force (NDRF) has deployed an unmanned aerial vehicle (UAV) to trace the bodies of missing students who drowned in the River Beas on June 8.
Twenty-four engineering students of a private engineering college of Hyderabad and a tour operator were swept away when the waters of River Beas suddenly spiked dangerously high following a release from the reservoir of the 126 megawatt Larji hydropower project in Himachal Pradesh on June 8.
An official of the NDRF, Vairabha Nathan, said: "Our Vice-Chairman of National Disaster Management Authority (NDMA) and Director General (DG) of National Disaster Response Force are also thinking of deploying UAV here. I came yesterday here. We used it in the dam area. We have been checking it from the incident site, due to some topographical condition and steep hills and lack of GPS connectivity, we are not able to fly it. But still we have been able to fly it from six-seven places where we are able to cover the entire stretch."
So far, only eight bodies have been recovered.
Politicians from Telangana have also visited the accident site and have been coordinating with the central government for assistance.
The team of rescuers includes teams of National Disaster Response Force (NDRF), Indian Army, Armed Border Force, Sashastra Seema Bal (SSB) and divers of Army and Navy.
Telangana Rashta Samiti (TRS) leader Jitender Reddy said, "From Larji dam to Pandu dam it is about 16-17 kilometres and within this 16-17 kilometres, 500-600 people have been deployed by Indo-Tibetan Border Police (ITBP), NDRF, home guard, the state police and all the Navy, Army and everybody. And, the search is going on, each kilometre they have put a team."
Telangana Interior Minister Naini Narsimha Reddy said: "Yesterday we spoke to Rajnath Singh (India's Interior Minister), we requested him to deploy latest equipment along with manpower. He would arrange for the troops in consultation with the home secretary. Today 36 divers have come and 15 experts would come from Telangana by evening."
Police have already filed a case of negligence against the dam officials.
Some of the students survived, managing to swim to safety. Those who survived complained of lack of warning signs.
Officials have also launched an investigation to determine the sequence of events, but are presently concentrating on rescue operations to find the rest of the group.