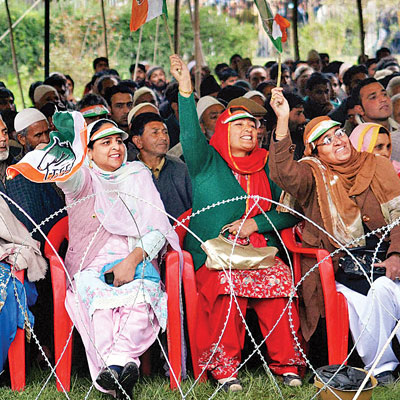 In the land of guns and bombs, democracy is the flavor of the season. Situated on the line of control (LoC) and dotted with gigantic mountains and thick forest ranges, Baramulla parliamentary constituency is making a gradual transition from being the hotbed of militancy to resurgent political nerve center.
Spread over three border districts of north Kashmir, Baramulla parliamentary constituency comprises 15 assembly segments. With an electorate of 11,51,725 lakh voters including 6,06,506 males and 5,45,219 females, the constituency is going to polls in the last phase in Jammu and Kashmir on May 7.
An apple bowl of Kashmir, Baramulla has one of the highest army presences in the Valley given the long LoC stretching from Tangdhar to Gurez to Uri sector. Some of the areas along the along the LoC have traditionally been exploited by Pakistan to push in ultras into the Valley for subversion. The constituency has witnessed some of the fiercest gun-battles.
The constituency is witnessing a four way contest between the leaders of two mainstream parties and former separatist groups. National Conference (NC) has reposed faith in its sitting member of parliament Sharif-ud-din Shariq while main opposition People's Democratic Party (PDP) has fielded Harvard-educated Supreme Court lawyer and former deputy chief minister Muzaffar Hussain Baig.
Seventy-nine-year-old Shariq, a two-time MLA who was previously elected to Rajya Sabha twice, is one the oldest candidates in the fray. A post graduate in Urdu who won 2009 Lok Sabha polls, Shariq is up against a resurgent PDP.
"Parliamentary polls provides an opportunity to the people to make a distinction between friends and foes and stop the march of communal and divisive entities in a bid to safeguard the special status of Jammu and Kashmir," said Shariq
Sixty-eight-year old Baig, a mercurial politician is giving a tough fight to Shariq in his pocket borough. A former deputy chief minister in PDP-Congress government, Baig has been formerly an advocate general and law minister of Jammu and Kashmir.
"Ruling coalition government in J&K is on its way out and had no chances of making a comeback. That is why the NC patron is trying to find some employment for Omar Abdullah in New Delhi," said Baig.
But what has added zinc to the contest is the decision by architect of the 'Save Afzal Guru resolution' and independent lawmaker Sheikh Abdul Rasheed aka Engineer Rasheed to take on Shariq and Baig on their home turf.
Rasheed, who quit his job as government engineer to contest elections in 2008 as an independent candidate, hogged the limelight in September 2011 when he brought the controversial 'Save Afzal Guru' resolution in the Assembly seeking amnesty to the parliament attack convict.
"People shouldn't be deceived by the false promises by NC and PDP. These were the parties that gave their full support to Congress and BJP to murder the political desires of Kashmiris," said Engineer Rasheed.
If Engineer Rasheed could jump into the fray, can former separatist group, 'People's Conference (PC) led by Sajad Gani Lone be far behind. Lone has fielded Gujjar leader and Ex-Doordarshan honcho Salam-ud-din Bajad to spoil the party of Shariq and others. "It is time to bring down the edifice of corruption, cronyism and mediocrity created by National Conference. They will do anything to hold onto power even if it means striking a deal with devil," said Lone.
Separatist sentiments run deep in some of the pockets in the constituency which has seen increasing number of stone-pelting incidents and killings in the forces action. Home to senior separatist leaders including Hurriyat hawk Syed Ali Shah Geelani and moderate leader Abdul Gani Bhat, some of the areas in the constituency was at the forefront of the 2010 agitation with several youth losing their lives in the security forces action. "Omar government has earlier also registered FIRs against the victims of its own atrocities but people must rise against it to dislodge the coalitions from the state. For that the PDP victory in Lok Sabha election would be in first crucial requirement," said Baig.