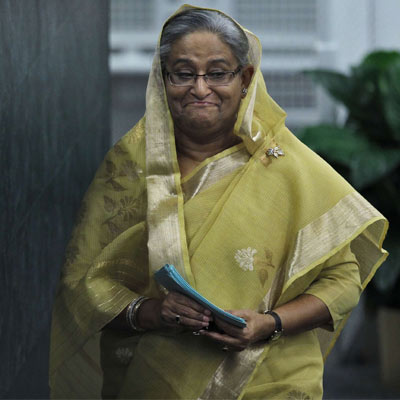 Bangladesh Premier Sheikh Hasina today felicitated BJP's prime ministerial candidate Narendra Modi on the resounding victory in Lok Sabha elections, inviting him to visit the country as his first foreign destination.
Reaching out to Modi in a warm letter, Hasina said that with the kind of people's mandate given to their respective parties they can work together to take the bilateral relationship to 'increasingly greater heights.'."I am delighted to see a great friend of Bangladesh leading an extremely friendly country, India, in the coming days," Hasina said in her letter to Modi, BJP's prime ministerial candidate.
"I hope that you would find my country your second home and first destination for your official visit abroad," she said.
Hasina said "the decisive verdict given by the people of your great country is a strong testimony to your dynamic, inspiring and visionary leadership qualities and manifestation of the trust and confidence reposed in you by the people of the largest democracy in the world."
Describing Bangladesh and India as "natural and contiguous development partners," Hasina said, "our shared history and culture...our inseparable bond of friendship was permanently cemented when the entire political leadership and the people of India provided unprecedented support to our historic War of Liberation in 1971."
Noting that the two countries have made significant collective strides in the bilateral relationship, she said it must continue to move forward.
"I firmly believe that with the mandate given to both of us by our respective peoples, we shall be able to work together to take our relationship to increasingly greater heights," Hasina said.
"On this historic occasion and joyous moment of your victory, I wish you and the friendly people of India all the very best," she said adding that "I most warmly invite you, to visit Bangladesh at your earliest convenience."