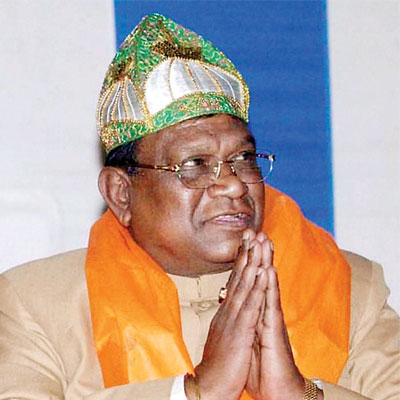 Bangaru Laxman, who died on Saturday at Hyderabad after a long illness at the age of 74, was chosen president of Bharatiya Janata Party (BJP) at Nagpur in 2000. He became the first Dalit leader to head the prime right-wing party in the country.
The BJP was then leading the National Democratic Alliance (NDA) government under prime minister Atal Bihari Vajpayee. It seemed that in its hour of power, the BJP took a progressive step in the right direction.
It was also the year when Colin Powell, a retired army chief and a black American, addressed the Republican Party convention and he told the United States' conservative party that it should open itself up to Blacks and other minorities. Compassionate conservatism was the theme of the party meet and George Bush was nominated as the presidential candidate.
Laxman in his presidential address said the party has to open its doors to Muslims and other minorities to move forward. A lawyer by training, he was critical of then president KR Naraynan's Republic Day speech in 2001 where he warned against "basic democracy', an idea mooted by Pakistan's Ayub Khan. It was seen as a jibe against the BJP and its attempt to change the Constitution. Laxman was of the view that the Narayanan's partisan remark was unwarranted.
But it all turned sour the next year when a sting operation conducted by news portal Tehelka caught him in camera accepting Rs10,000 in cash after talking about a defence deal and asking for dollar payments into the bank account. He had step down as president, and it seemed that sections of the party, especially the more conservative elements, were only too happy to turn their back Laxman.
He was convicted by a CBI court in 2102 under the Prevention of Corruption Act and sentenced to four years of rigorous imprisonment. At the time of his death he was out on bail because of his poor health condition.
Laxman travelled with Vajpayee during the election campaign in 2004 because Vajpayee was the only tall leader in the party who did not fight shy of being seen with Laxman in the public arena. He continued to be member of the national executive, from where he resigned after he was convicted.
He was the most happy person after the arrest and controversy of Tehelka editor Tarun Tejpal in an alleged rape of his editorial colleague. "What a fall. People who pretend to be righteous, stoop down to such low levels, immoral methods and practices in name of exposing corruption," was his comment from his hospital bed in Hyderabad in November last. Nobody can hide under burqa longer," he had said .
Lakshman died in a Hyderabad hospital after prolonged sickness. He suffered from kidney and paralysis for over an year. He was 74. — With inputs from G Vijayalaxmi in Hyderabad.