Kris joins the list of bizmen who have donated handsomely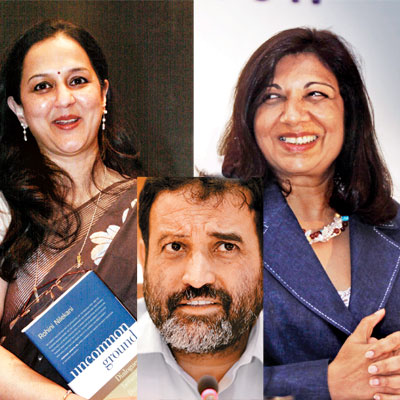 From IT capital of the country, the city has surely become the philanthropic capital. Corporates in the city have for long pledged to various philanthropic activities from cancer research foundation, to working towards sustainable environment, education, to helping people get employable.
"I think every person who is fortunate to have enough wealth should do something, however small, towards the society. I feel corporates have a bigger role to play as they have the power to make a change that affects many," says Kiran Mazumdar Shaw, founder and CMD, Biocon.
Shaw has helped establish the Mazumdar Shaw Cancer Centre at Narayana Hrudayalaya. Recently she set up Mazumdar Shaw Centre for Translational Research, which will primarily work in stem cell research, personalised medicine, breast cancer, head and neck cancer and neuro oncology. She says she invests Rs20 crore every year and till date has put in more than Rs200 crore.
Mohandas Pai, who has set up Akshaya Patra Foundation along with other philanthropists, feels that philanthropy should come naturally to people. "Bangalore definitely has seen hosts of such activities and it makes me proud to be part of this city. This truly shows the city's progressive nature," he says. The foundation provides mid-day meal to school-going children in the city.
Interestingly, most of city's corporates do not have a legacy like the Tatas and the Birlas. "The wealth has been mainly created by the technology boom. It was easy for us to spread the wealth as none of us had a legacy. Most of us have had a middle class upbringing," says Rohini Nilekani, who sold her Infosys stocks last year to invest in various social causes. "I am very proud of what Kris (Gopalkrishnan) and Sudha (Murthy) have done by investing in brain research." "Bangalore culture has been different. In fact, we all joke that we are competitive in philanthropy as well. Whenever we people meet, we seldom discuss stocks. Most of our discussions revolve around either politics or philanthropy," she adds. Nandan Nilekani has donated Rs50 crore to Indian Institute for Human Settlements.
NR Narayana Murthy has Infosys Foundation which works in partnership with non-government organisations to help underprivileged communities in the areas of healthcare etc. Similarly, Azim Premji foundation works in primary education to improve quality of education.