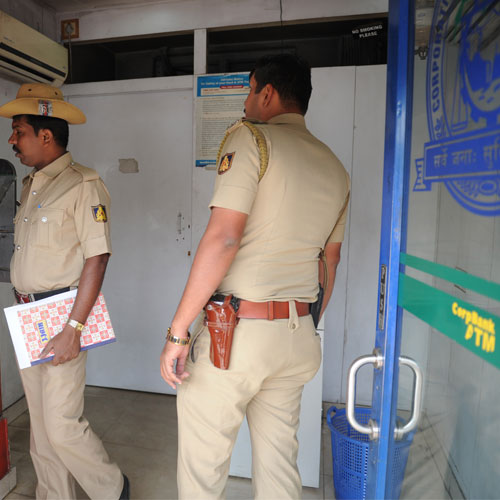 The assailant who brutally attacked a 44-year-old bank manager inside an ATM kiosk last week is suspected to be a serial offender. The assailant, who is on the run after the savage attack on Jyothi Uday last Tuesday, is said to be involved in the murder of another woman in Andhra Pradesh.
Investigators, who are on the lookout for the assailant, have stumbled upon video images captured by a CCTV inside an ATM kiosk in Kadiri in Anantpur district of Andhra Pradesh, where a man who appears to have a striking resemblance to the assailant is seen withdrawing money using a debit card of a woman named Parimala, who was found murdered on November 10. The man had withdrawn money using the card on November 11 and 12.
Apart from having facial resemblance to the assailant, whose savage act was captured by the CCTV camera at the ATM kiosk in Bangalore on November 19, the bearded man is seen wearing a blue shirt with white stripes and carrying a sling bag. Incidentally, the man who attacked Jyothi was also wearing a blue shirt with white stripes and carried a sling bag from which he took out weapons to attack the hapless woman.
Police suspect that the man who withdrew money from Parimala's debit card at the ATM kiosk in Kadiri could be behind her murder that took place in Darmavaram, which is in Anantpur district of Andhra Pradesh. Jyothi's assailant sold the mobile phone that he had robbed from her at a shop in Hindupur, which happens to be in the same district.
Unconfirmed reports have also stated that the Andhra Pradesh police have nabbed the man captured on the CCTV images in Kadiri.