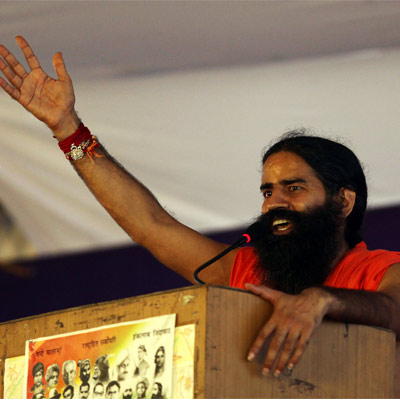 Campaigning for the Bharatiya Janata Party (BJP) leader and BJP candidate from Amritsar Arun Jaitley, yoga guru Baba Ramdev on Wednesday said that Jaitley had the capabilities to represent Punjab.
Vouching for Jaitley in Amritsar city on Wednesday, Ramdev called on voters to cast their ballot in his favor.
"I have full faith in Arun Jaitley that he will look into every aspect of development of Amritsar city and he will always raise his voice in the Parliament for the right of people of the city, a role only he alone can play best," Baba Ramdev said.
Jaitley is fighting elections from Amritsar constituency against leader of the Congress party, Captain Amarinder Singh, who is the former chief minister of Punjab.
Meanwhile, Baba Ramdev also lashed out at Congress party and accused it of amassing wealth through various scams and deals.
"A family of thieves has auctioned India and I also feel that lakhs and thousands of rupees, which have been stolen from the country, have been looted by that same family. And I feel Arun Jaitley is a leader who can challenge them upfront," Ramdev said.
Baba Ramdev has been touring India to garner votes for the BJP, after the party accepted his proposal to bring back black money stashed in foreign banks, if voted to power.