Salman Khan, Madhuri Dixit, Ranveer Singh and Mallika Sherawat among top stars to entertain Etawah crowd.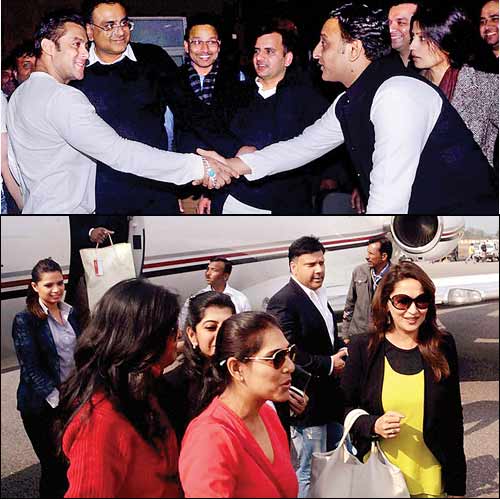 From Salman Khan and Madhuri Dixit to Alia Bhatt, Ranveer Singh, Eli Abraham (of Bigg Boss fame), Mallika Sherawat, Varun Dhawan, Siddharth Malhotra, Remo, Sajid Wajid and Hard Kaur, several Bollywood stars descended upon the Saifai village on Wednesday for the final day of the SP's Saifai Mahotsav.
Akhilesh Yadav's Samajwadi Party (SP) government pulled out all the stops to bedazzle the crowds with star power on Wednesday, with a total of 32 performances by the stars.
So what if the media, especially television anchors went blue in the face criticising the crores spent on the SP's annual jamboree at a time scores of people were freezing in the relief camps set up for the Muzaffarnagar riot victims? The SP was, however, stung enough by the criticism to turn out the television cameras from the fair premises on Wednesday.
Thousands of people turned up to watch the stars perform at the PWD grounds where the annual fair is held. But security was tight too as thousands of police and paramilitary forces from the RAF, CRPF, etc descended on the village of just around 4,000 people. On Wednesday evening, the police had to swing their batons when crowds eager to enter the arena threatened to break down the barricades.
"They have really stepped on the gas this year with the Bollywood celebrities," Akshay Singh, a resident of Etawah who had come to Saifai, the native village of Mulayam Singh Yadav, to attend the Mahotsav. "After all, they are in power this time."
Half a dozen planes landed on the airstrip some distance from the village on Wednesday bringing in the celebrities and politicians, and ferrying them in plush SUVs — BMWs, Audis, Mercedes — to spruced-up guest houses in the village.
Dressed in their Sunday best, people had come from Etawah, Shikohabad, Firozabad and even Agra, nearly a 100 km away.
The crowds had started converging early in the evening and by 6 pm had swelled to a pressing throng that threatened to break down the three metal detectors placed at the entrance. Through the afternoon, the law-enforcement officers had a tough time beating back the eager hordes who wanted to enter the cordoned off VIP area where the stars were rehearsing.
A loud cheer went up as chief minister Akhilesh Yadav, and "netaji" Mulayam Singh Yadav entered the arena, dressed nattily in black and white, and took the sofas draped in white right in front of the large stage. But everyone, clearly, had eyes only for the stars.