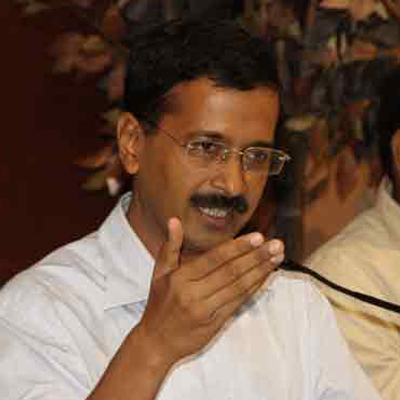 AAP leader Arvind Kejriwal posted another video on Youtube today. Kejriwal in his video referred to the recent attacks on him and blamed the rich and corrupt for sponsoring these attacks. He refused to blame the attackers, saying the attackers were very poor and were paid off.
He also contended that India could survive only through non-violence. He targeted politicians accused of corruption and said they were scared by the rise of the Aam Aadmi.
Furthermore, he expressed faith in the Aam Aadmi and then posted this on Twitter:
My political assessment - AAP getting 6 to 7 seats in Delhi

— Arvind Kejriwal (@ArvindKejriwal) April 10, 2014
Kejriwal has been the target of several attacks in the recent past, in the follow up to general elections.
On March 28, Kejriwal had a roadshow in Charkhi Dadri area of Haryana, during which a man attacked him hitting him on the neck.
Arvind Kejriwal attacked by unidentified man in Haryana
He was attacked again while campaigning in Delhi on April 4, and again urged his supporters not be violent with the attacker.
The third and latest attack came at Sultanpuri in Delhi on April 8 when Kejriwal was campaigning there. The attacker first garlanded Kejriwal, and then hit him hard across the face. The attack left Kejriwal with a swollen eye.
Kejriwal attacked again; left with swollen eye
Following the attack, Kejriwal tweeted:
I am just thinking - why am i being repeatedly attacked? Who r the masterminds? What do they want? What do they achieve?

— Arvind Kejriwal (@ArvindKejriwal) April 8, 2014
and
Is violence an answer to country's problems? let them tell me place n time. I will come there. Let them beat me as much as they want......

— Arvind Kejriwal (@ArvindKejriwal) April 8, 2014
This time, Kejriwal demanded that the police find out which agencies were behind the attacks on him.
The next day, Kejriwal visited the person - an autorickshaw driver - who had slapped him, at Aman Vihar in outer Delhi. The autorickshaw driver apologised to Kejriwal.
Arvind Kejriwal visits his attacker, forgives him
In the past, Indian politicians have been at the receiving end of attacks from laymen. These attacks have mostly happened during elections.
On April 7, 2009, a journalist, Jarnail Singh, threw a shoe at Finance Minister P Chidambaram.
On April 26, 2009, during an election rally in Ahmedabad, a man threw a shoe at Prime Minister Manmohan Singh, which missed him by a few feet.
On April 28, 2009, a slipper was hurled at Karnataka CM BS Yeddyurappa during an election rally in Karnataka.
In the same month, BJP worker Pavas Agrawal hurled a slipper at BJP leader Lal Krishna Advani. He was arrested for interrogation.