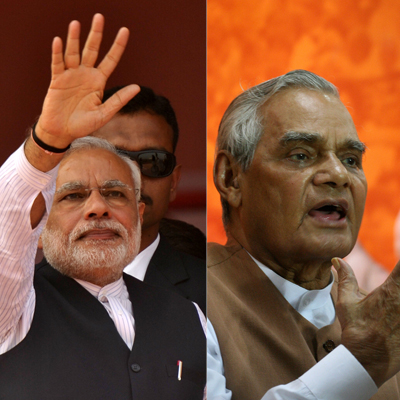 Uma Bharti's comment on Narendra Modi's oratorical skills sparked many controversies. According to Uma Bharti, "If you have paid attention then you would know that Modi is not a good orator. People go to his rallies not to listen to his speech but to tell him that they stand by him".
She also added, "Atal Bihari Vajpayee was a good orator. People say that there has been no orator like him in Indian politics".
That Atal Bihari Vajpayee was a great orator cannot be denied. People all over India have eulogised his public speaking and he was very popular for his oratory skills during his time. We take a look at some of his famous speeches and find out why Atal Bihari Vajpayee was loved so much for his rhetorical.
This is a well-known speech by Vajpayee about Pakistan and America. It was delivered post Kargil war and it brings forth his excellent poetic skills.
Another speech that moved Indians was on the nuclear test that India conducted successfully under Atal Bihari Vajpayee's leadership. He was criticised by other leaders for conducting the nuclear weapons test and in his parliamentary speech he rightfully justified his stand on India's national security.
Atal Bihari Vajpayee's command on Hindi, his no-nonsense attitude, the slight touch of humour and sarcasm makes him one of the best orators India has witnessed.
On the other hand, Narendra Modi, the Prime Ministerial candidate of Bhartiya Janta Party (BJP), is from an era where blame-games and false promises draw huge crowds to political rallies.