25 people are still feared trapped inside the debris of the building, which collapsed after heavy rains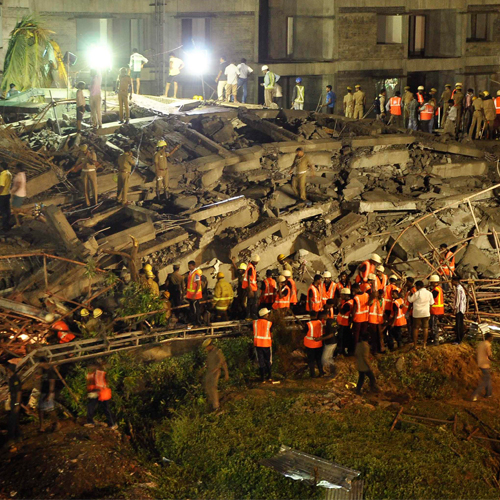 At least five people have died and 15 others injured when an 11-storeyed under-construction building collapsed near suburban Porur in Chennai late on Saturday night, with rescue efforts on by multiple agencies, including the National Disaster Response Force (NDRF).
A total of 20 people were rescued and admitted to the nearby Sri Ramachandra Medical University (SRMU), of whom five – three men and two women – died, hospital spokesperson PV Nallamuthu said, adding one of the injured is in critical condition. Police said efforts are on to bring out about 25 others from the debris.
Meanwhile, Chennai Metropolitan Development Authority officials said a formal report would be submitted tomorrow to the government, which would study if there were any "irregularities" or "illegalities" in granting plan permission. Other aspects to be examined would include the quality of construction and the soil suitability, they said.
Director of Medical Education Seethalakshmi said arrangements have been made at government hospitals in the city to treat the injured. She also visited the injured at SRMC.
Fire and Rescue Services Joint Director S Vijayasekar had earlier stated that 50 people were feared trapped in the debris.
Meanwhile, two directors of the construction company which had taken up the housing project were detained for questioning, police said.
Tamil Nadu Chief Minister Jayalalitha directed officials to initiate legal proceedings against those responsible. She also said NDRF teams had rushed from neighbouring Arakkonam even as multi-agency relief operations are on in full swing, and that she had ordered best medical treatment to the injured.
The building collapsed at Moulivakkam in the western suburb, about 20 km from here, as rains lashed the area and several other parts of the city this evening. Building firm Prime Sristi, which took up the residential project, claimed the mishap occurred due to impact of thunder.
"Usually, once the construction gets over we install the equipment to prevent the building from thunder strike. It was nearing completion," Balaguru, director, Prime Sristi, said. He said about 50 workers were inside the building during the mishap and there was a heavy downpour at that time.
The mishap resulted in heavy traffic jam in the area.