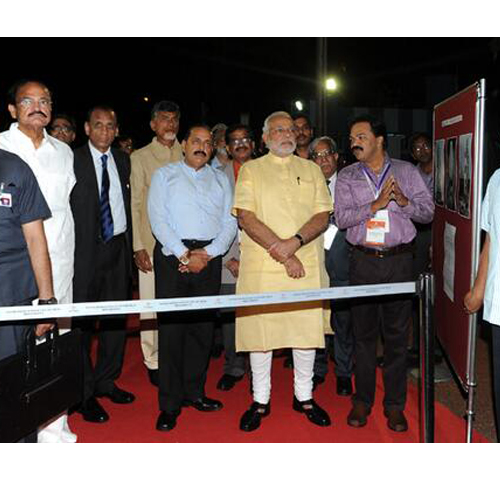 Prime Minister Narendra Modi, today, witnessed the launch lift off of the Indian Space Research Organisation's (ISRO's) PSLV C23 on Monday morning. Modi congratulated the scientists for the launch of PSLV C23 rocket carrying five foreign satellites
The Polar Satellite Launch Vehicle (PSLV) is carring a French Earth observation satellite along with four other satellites from Singapore, Canada and Germany from the Sriharikota spaceport in Andhra Pradesh. The countdown for the launch began on Saturday and the lift off was conducted shortly before 10 am.
In an address to the scientists that led the launch, Modi said, "This fills every Indian's heart with pride and I feel privileged to watch this in person."
Congratulating the team he added, "I got to meet four generations of scientists and this is a big sign of progress. This is a domain where we are the international cutting edge. We have achieved excellent and cut beyond mediocrity. Even today's satellites are from developed nations. Truly, this is a global endorsement of our space capability. We are proud that our programme is indigenous. Generations of scientists have worked to make India a self-reliant space power."
READ: Can India to be world's largest low-cost space technology supplier? PM Narendra Modi thinks so; pitches idea at #PSLVC23 launch
Prime Minster Narendra Modi on Monday congratulated space scientists and department of space for a successful launch of PSLV C23 and said that he felt privileged to witness this launch in person. "My congratulations to space scientists and department of space for another successful launch. This fills every Indian's heart with pride. I feel privileged to witness this launch in person," said Modi. "This is definitely a global endorsement of India's space capability. India has a rich heritage of science and technology, its relation with life and science is deeply rooted with knowledge," he said. Read more
"Our ancestors had conceived of ideas like 'Shunya' and 'flying objects', long before others," he said. "Such technology is fundamentally connected with the common man. As a change agent, it can empower and connect, to transform his life. Technology has a critical role in realising the vision of a Digital India – the power of 125 crore connected Indians."
Noting the importance of the technolgy in tracking real world promblems, he said, "GIS technology has transformed policy planning, implementation. Space imaging enables modern management, conservation of water resources. Satellite communication channels, often end up being the only mode of communication."
Citing use of tech in disaster management, he said, "Space technology has also evolved into an invaluable asset in disaster management. Accurate advanced warning, and tracking of Cyclone Phailin, saved countless lives recently."
"I urge Department of Space, to proactively engage with all stakeholders, to maximise use of space science in governance and development," he said. "India's Space programme, is driven by a vision of service to humanity. Not by a desire of power."
READ: Narendra Modi pitches India to be largest low-cost space technology supplier at #PSLVC23 launch
Newly elected Prime Minister Narendra Modi made a pitch for India to be the world's low-cost space technology supplier, minutes after witnessing the launch of a rocket carrying five satellites from France, Singapore, Germany and Canada on Monday. The launch of the Polar Satellite Launch Vehicle bolsters India's goal of capturing more of the $304 billion annual global space market, and Modi seized the moment with an uplifting speech about India's prowess in cheap space technology. Read more
He also urged the Indian space community to undertake projects that extend into India's neighbourhood, "Today, I ask our Space community, to take up the challenge, of developing a SAARC Satellite. I also ask you, to enlarge the footprint of our satellite-based navigation system, to cover all of South Asia."
He even suggested developing, a state-of-the-art, interactive, digital space museum. "India has the potential, to be the launch service provider of the world. We must work towards this goal. India's space programme is a perfect example of my vision of scale, speed and skill," he said in conclusion.
READ: Narendra Modi asks ISRO to develop a SAARC satellite
Proposing satellite diplomacy with a view to playing a key role in the development of the region, Prime Minister Narendra Modi today asked Indian space agency ISRO to develop a SAARC satellite which can be dedicated as a 'gift' to the neighbours. "Today I ask you, the space community, to take up the challenge of developing a SAARC satellite that we can dedicate to our neighbourhood as a gift from India," he said in his address after witnessing the successful launch of five foreign satellites from here on board ISRO's PSLV C-23 rocket. Read more
Also Read: PM Narendra Modi says "Yeh dil maange more", proposes SAARC satellite
Watch his full speech here:
On Sunday, the Prime Minister made a brief stopover in Chennai before moving onto Sriharikota. He was received by the Governor of Tamil Nadu, K. Rosaiah, and the Chief Minister of Tamil Nadu, J. Jayalalithaa. He later had a courtesy meeting with Jayalalithaa before leaving for Sriharikota. This is the fourth fully commercial launch of the PSLV that is likely to establish to the world India's potential of competing in the global multi-billion dollar lucrative commercial space launch market.
The launch was originally fixed for 9.49 am on Monday, but was rescheduled for 9.52 am due to the probability of space debris movement during the launch window.
Sriharikota (Andhra Pradesh): PSLV C-23 launched pic.twitter.com/2kHNEq5YMG

— ANI (@ANI_news) June 30, 2014
ISRO chairman K Radhakrishnan was earlier quoted by a television channel, as saying that the PSLV mission would be used to launch the SPOT-7 satellite, an advanced Earth observation satellite built by Airbus Defence and Space, France.
It is expected that during his first visit to the spaceport at Sriharikota, Prime Minister Modi will be briefed on many novel Indian space-related developments.
ALSO READ: President Pranab Mukherjee congratulates ISRO team over #PSLVC23 launch
President Pranab Mukherjee today congratulated space agency ISRO for the successful launch of rocket PSLV-C23, saying it is a significant milestone in the progress of the country's space capabilities. India launched five foreign satellites from four countries on board PSLV-C23 rocket which placed them in orbit. In his message to Dr K Radhakrishnan, Chairman of ISRO, the President said, "I congratulate you and your team at the Indian Space Research Organization (ISRO) for the successful launch of Polar Satellite Launch Vehicle, PSLV-C23, carrying five satellites from four countries. "The nation is proud of this important achievement which is a significant milestone in the progress of our space capabilities". Read more
PM Narendra Modi says "Yeh dil maange more"
(With agency inputs)